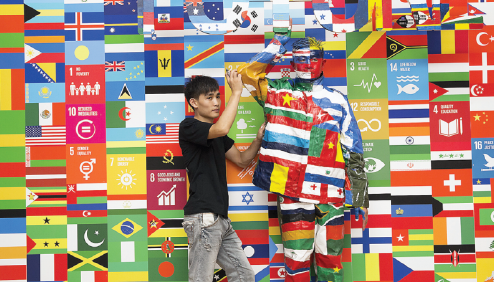 Liu Bolin in his latest piece of art The Future, which depicts him blending in to a board painted with UN member states' flags. [Photo provided to China Daily]
Liu Bolin is called the "human chameleon" and China's "invisible man".
The 42-year-old Beijinger is known for his Hiding in the City performance art and photography series. For a decade, he has photographed the process in which he camouflages himself in scenes to comment on social issues.
He recently inserted himself into a photo featuring 193 national flags to comment on the United Nations Global Goals. He titled the work The Future.
The United Nations launched the Global Goals campaign, the sequel to the Millennium Development Goals, at its headquarters on Sept 3.
The initiative proposes 17 goals to overcome extreme poverty, inequality and injustice, and global climate change. The aim is to tackle these pressing concerns by 2030.
The UN calls it a "groundbreaking" partnership among non-governmental organizations, companies and public figures to inform people that "it's time to change the world".
Liu created The Future in his Beijing studio days before the announcement.
It depicts him blending in to a board painted with UN member states' flags, between which 17 boxes are each printed with one of the Global Goals and are arranged to spell out "UN".
The artist holds up a sign spelling out "future" in capital letters.
"This piece makes people think about the future of human beings," he says.
"I want it to help raise awareness about issues such as poverty, imbalanced development and global climate change. Art can't change the future, of course. But it can touch the present. I hope that through this work, more people will become aware of how serious the issues we face are and start making an effort to change."
It took Liu and his assistants almost four hours to camouflage him. He wore a military-style uniform and applied a facial mask to protect his skin from oil paint.
The sign with the slogan was hung in midair so he could reach for it, enabling his assistants to see which pose would enable him to blend in, as they painted his head and hands.
It took countless tweaks before Liu disappeared into the colorful flags. He often had to rest his aching muscles.
British screenwriter Richard Curtis, who founded the Global Goals campaign, calls The Future an "incredible" artwork and "a powerful statement" of the goals' ambition. He says Liu shows a mastery of "creating powerful, thoughtful and beautiful images".
"In The Future, he asks us all to consider the years ahead for our children and our children's children," Curtis says in a news release by the United Nations Development Program in China.
Curtis also says such works can raise awareness that the 17 goals are achievable.
"We can be the first generation to end extreme poverty, the most determined generation in history to end injustice and inequality, and the last generation to be threatened by climate change," he says.
Liu created the first work of the Hiding in the City series in 2005.
The photo shows him blending into the rubble of a partly demolished building in Beijing's suburban Suojia village. Many artists, including Liu, lived and worked there until it was knocked down to make way for real estate development.
It was meant to protest the sacrifice of artists' interests to urbanization. He compared the process of camouflage to that in which people hide their personalities to strike a compromise with social norms.
Liu didn't blend in perfectly in the photo. His eyes were open, and he didn't totally melt into the background.
He continued with the series to critique such emerging issues as pollution, food safety and marginalized communities.
Four years ago, he blended into supermarket food shelves.
One photo shows different foreign soft-drink brands and is intended as a commentary on China's increasing consumption of such beverages, which causes such health problems as premature puberty and obesity.
Another showing imported foods comments on the country's distrust of domestic produce due to pesticides and food additives.
The series also features such overseas destinations as the Wall Street Bull and Paris' Orsay Museum.
Liu recently delved into issues surrounding the online world.
He blended himself into enlarged versions of photos from foreign government websites and plans to upload these images on the Internet.
"The happenings of the real world are not the only problems we face," he says.
"The issues we are having with the digital world also matter a lot to our future."