Dense pastries offer holidaymakers a bite of the moon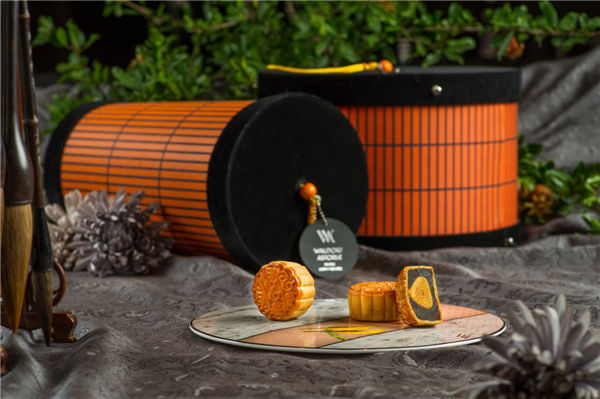 Mooncakes are turning up in shops, bakeries and hotels around the country for the upcoming Mid-Autumn Festival. Provided to China Daily
As the Chinese Mid-Autumn Festival approaches - this year celebrated on Sept 27 - mooncakes are turning up in shops, bakeries and hotels around the country.
It's the perfect snack for moonwatching with someone you love. China Daily's Jenny Chen digs up answers to common questions about this festival food, a popular snack and gift this month.
When are mooncakes eaten?
The mooncake is an ubiquitous delicacy for the Mid-Autumn Festival, one of China's four most important festivals.
The festival takes place on the 15th day of the eighth lunar month, when the full moon rises. Traditionally a harvest festival for lunar worship, today it's an occasion for gatherings among friends and families to eat mooncakes and celebrate a joyous reunion. Those away from home in a wistful mood may "moon" over their beloved ones during this particular festival.
Why is it associated with the moon?
The moon in Chinese culture represents nostalgia and homesickness.
Its changing shape reminded ancient Chinese of the caprice of human life, therefore a full moon - mirrored in shape by a mooncake - usually symbolizes completeness and unity. In ancient days, sacrifices were offered to the sun in spring and the moon in autumn. The Mid-Autumn Festival, or the "Night of the Moon", officially gained its name in the Song Dynasty (960-1279), and the mooncake still plays a central role in the festival.
Is the taste always sweet?
Not always. Indeed, typical mooncakes are round pastries, with a rich thick filling usually made from red-bean or lotus-seed paste and covered by a thin crust. It may contain yolks from salted duck eggs, integrating a beautiful savory tinge into the sugary taste. Among other common fillings, the five-kernel (wuren) mooncake packed with coarsely chopped seeds, is considered unpalatable by many. Nowadays, fillings and crusts have become more diverse, especially in the hands of high-end hotel pastry chefs. Taro paste, pineapple and durian fillings have become popular, while the most exotic crust may be the "snow-skin mooncake", a raw and chilled variation.
Does the flavor vary from region to region?
Yes. For instance, Ningbo-style mooncakes have a spicy and salty flavors with either seaweed or ham fillings. Ham can also appear in Yunnan versions, with crusts rolled in sugar. A traditional Beijing mooncake is often meticulously decorated and fillings are flavored with mountain hawthorns and wisteria blossoms.
How do you eat them?
Traditionally, they are sliced thinly and served with tea.
Are they fattening?
Each toothsome mooncake is approximately 1,000 calories for a 10-centimeter cake, though it varies. So think twice before treating yourself to a second piece.
Does the mooncake have any other role besides dessert?
In the eastern province of Fujian, it used to be the prize of a dice game (bo bing), hugely popular in Xiamen, Quanzhou, Zhangzhou and Jinmen in Taiwan. Legend has it that Koxinga, a Ming Dynasty (1368-1644) loyalist and the chief commander of troops on the maritime front, invented the gambling game to help relieve homesickness of troops garrisoned in Quanzhou. The game requires six dice to be thrown into a bowl together, and prizes are given according to each result. In the past, mooncakes of various sizes were served as awards. Now any interesting prize is acceptable.
What does the decoration on top mean?
The top crust is generally imprinted with the Chinese characters for longevity or harmony - plus the name of the bakery and the filling. Additional decorations may include the moon, Lady Chang'e on the moon, flowers and vines, or a rabbit, which is a traditional symbol of the moon.