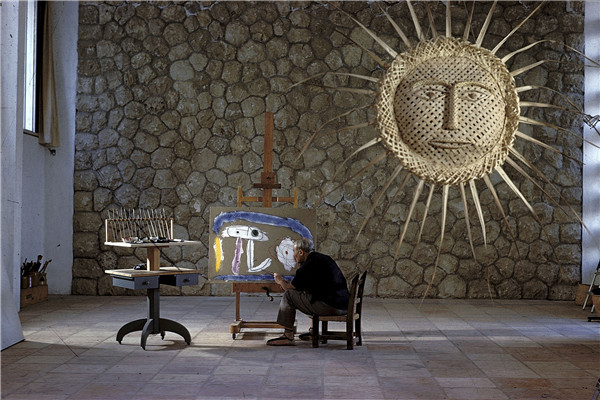 The show Revealed sheds light on how some of the 20th-century masters worked in their studios, like this one of Joan Miro in 1962. [Photo by Tony Saulnier/Paris Match]
Spanish master Pablo Picasso will never know how much he is celebrated in China. He is not known to have visited the country even once during his long and prosperous life.
But Olivier Picasso, one of his grandchildren, has already made amends-he came to Beijing last week, bringing along an exhibition of photos that show Pablo Picasso's intimate time at his studio in France, as well as the working styles of some other great 20th-century artists.
Revealed, the ongoing show, opened on Sept 1.
Olivier Picasso is the son of Pablo Picasso's daughter, whom he had with Marie-Therese Walter, a mistress and model for his artwork, including his 1932 painting The Dream.
As the curator of the current show, Olivier Picasso chose 30 pictures from the Parisan magazine Paris Match. In one of them, Pablo Picasso is seen playing with a spotted dog at his studio in Cannes, where his second wife, Jacqueline Rogue, is also present.
Others photos reveal how fellow Spanish artist Salvador Dali and Dutch painter Kees van Dongen worked in their respective homes, opening themselves to public review.
"My grandfather spent most of his time at his studio. An artist's studio is a reflection of his soul," says Oliver Picasso, 54.