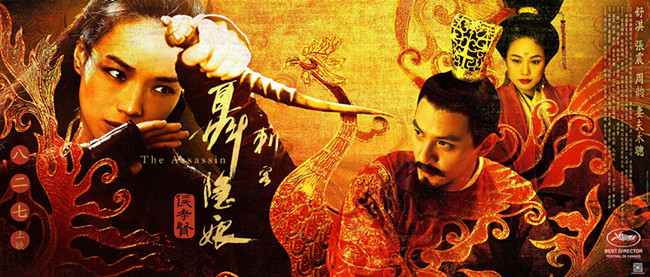 A poster of Hou Hsia-hasien's movie The Assassin. [File photo]
The Assassin has become the most controversial blockbuster of the past weekend, showered with praise and laments by a polarized audience.
Around 1.3 million moviegoers have flooded to watch Taiwan director Hou Hsia-hasien's first wuxia title, which has grossed 43 million yuan ($6.7 million) since it opened in mainland theaters on Aug 27.
All the information those ticket buyers received before is full of temptation.
It's the 68-year-old Hou's first movie to get a general release in the Chinese mainland. For many years, his followers could only watch his classics (for examples, City of Sadness and Flowers of Shanghai) via DVD or online. In May, the movie won the best-director award at Cannes. In a digital age, the old-school auteur insisted on shooting the film, which required 134,000 meters of reel - most of that cut to form a 107-minute version.
With a stellar cast boasting Shu Qi and Chang Chen, it seems ready-made for cinemas.
But while some love it to death, hailing it the best-ever title and the redemption of Chinese-language flops, others fiercely criticize it, telling acquaintances on social media not to waste money on the "sleepy" title.
"Are you touched or asleep?" is a question that even headlines some domestic media reports.
An extreme example occurred in Hangzhou, Zhejiang province. One moviegoer demanded a refund of the ticket price, as he misunderstood the academic ratio (1:1.85) and the black-and-white prologue as technical breakdown, according to Qianjiang Evening News.
Mounting confusion about some deliberately grainy footage - and a square-like screen that looks like that of an old-fashioned TV set - has forced some theaters to create posters explaining that Hou simply wants that effect.