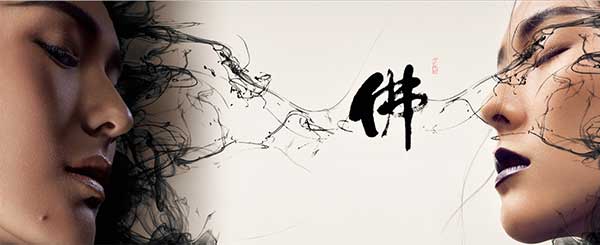 Chinese calligraphy is reinterpreted with a modern twist in the show Echo Project in Beijing, featuring works by Wang Changlong and Cheng Peng.[Photo provided to China Daily]
An experimental project in Beijing mixes Chinese calligraphy and modern art, Lin Qi reports. A year ago, Liu Huan, an independent art curator from Beijing, told his 86-year-old grandfather, Wang Qingyun, he'd initiate an art project that would mix Chinese calligraphy and contemporary art.
He said the experimental project would pair the writing of Wang, a calligrapher active on the mainland and in Taiwan, with the works of several young artists of various mediums.
"Grandpa didn't understand what I intended to do and why I wanted to have fun with calligraphy, to which he had given decades of his life," Liu says.
At the opening of Echo Project at Beijing's Today Art Museum, Wang came to understand the "inconceivable" idea of his grandson.
Each of the displayed illustrations, photos, installations and paintings features some of the calligraphic characters he wrote. And the works further develop or reinterpret the meanings of these Chinese characters.
"Calligraphy requires years of the accumulation of knowledge," Wang says.
"It is a self-cultivation of one's mind and spirit. It connects a person with his or her inner cosmos.
"I see at the exhibition that calligraphy has become a connection between tradition and modern culture, East and West. I see no cultural gaps that divide the older and young generations.
"It is a novel way, and it is necessary."
For the young artists involved, the cross-disciplinary practice has also changed their preconceptions of calligraphy.
Many of them, steeped in pop culture while growing up, were indifferent to or didn't know how to interact with this traditional art form.
Liu asked them to pick one or more Chinese characters that they found inspiring and would center their works around them. Wang would then create the selected characters with his brushstrokes.