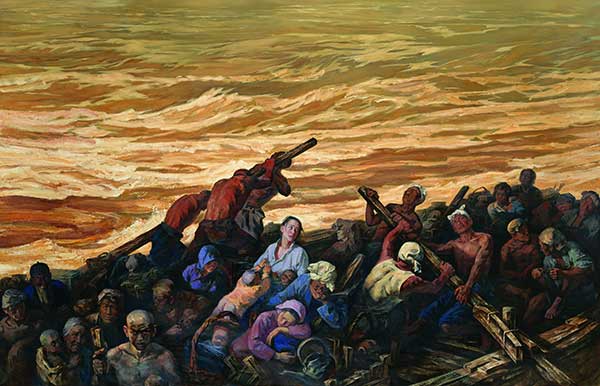 Chinese artworks at the ongoing show, Through the Eyes of History: A Hard Journey to Peace.[Photo by Jiang Dong/China Daily]
Two complementary Beijing exhibitions by Russian and Chinese artists commemorate victory over fascism. Lin Qi reports.
Zhang Qing nearly burst into tears while visiting a dozen Russian museums earlier this year.
The National Art Museum of China's research department head traveled with colleagues to Moscow, Saint Petersburg (previously Leningrad) and Volgograd (earlier Stalingrad) to scour storerooms for Russian World War II artworks for his museum's ongoing exhibition, Victory: 1945-2015!.
Zhang says many of the pieces reflect shared memories of the war.
"I was so moved, I nearly cried. Because of the painters and sculptors who depicted the horrors of war, we can experience the tremendous agony every Russian family felt."
A parallel message is sent by another ongoing NAMOC exhibition, Through the Eyes of History: A Hard Journey to Peace, which displays Chinese art about the Japanese invasion in nine halls and an outdoor square.
The shows commemorate the 70th anniversary of victory in the war against fascism.
Through the Eyes of History features such wartime works as the late artist Li Hua's woodcut, Roar, China! (1935). The piece portrays a man whose body is bound and eyes are covered, and represents a suppressed nation about to rise against invasion.