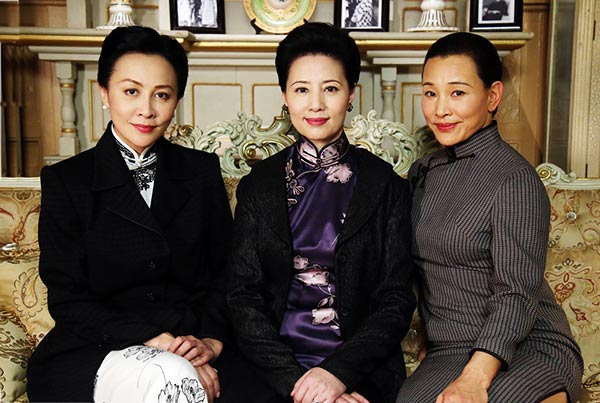 The Soong sisters are portrayed by Carina Lau Kar-ling, Yu Zifei and Joan Chen (from left). [Photo provided to China Daily]
The makers of the Chinese World War II film, Cairo Declaration, are seeking to calm the storm surrounding the movie's first round of promotional posters released on Aug 14.
It's not about what was on them-but rather, who wasn't.
Responses from its makers and a Friday sneak peak seem to suggest there may be little reason to get riled up about the absence of Kuomintang leader Chiang Kai-shek on the early posters. They featured Franklin Roosevelt and Winston Churchill-who attended the 1943 Cairo Conference that established the postwar order-and Mao Zedong-who didn't.
Posters including Chiang and the Soong sisters were released after criticisms surrounded their absence.
"China's 110 years of cinema has produced hundreds of thousands of posters," chief director and scriptwriter Liu Xing told China Daily on Friday, when the 98-minute film was previewed at the Chinese People's Political Consultative Conference Hall.
"I don't remember any poster tampering with history," Liu says.