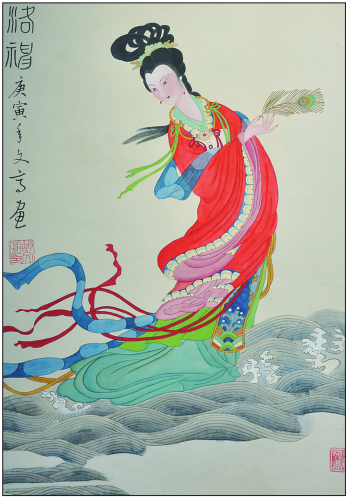 Goddess of Luohe River. [Photo provided to China Daily]
Passion and perseverance have taken Hu from rural fields to national awards, Zhuan Ti reports.
Art has literally changed the life of Hu Wengao, a 60-year-old selftaught painter in the city of Taizhou, Zhejiang province.
As a child, Hu showed strong interest in traditional Chinese arts, such as Chinese painting and calligraphy. However, growing up in a poor family, he couldn't afford even basic art materials, such as brushes and paper.
Refusing to be deterred, Hu made his own "brush" by rolling up rags and practiced calligraphy by using it to write with water on the dining table. When the table dried and the calligraphy disappeared, he started over, repeatedly practicing.
Due to his family's financial constraints, Hu left school when he was barely 13. However, he continued to focus on teaching himself art with even stronger persistence.
Unable to afford a professional teacher, Hu learned to draw figures from portrait painters on the streets in his hometown by observing them carefully.