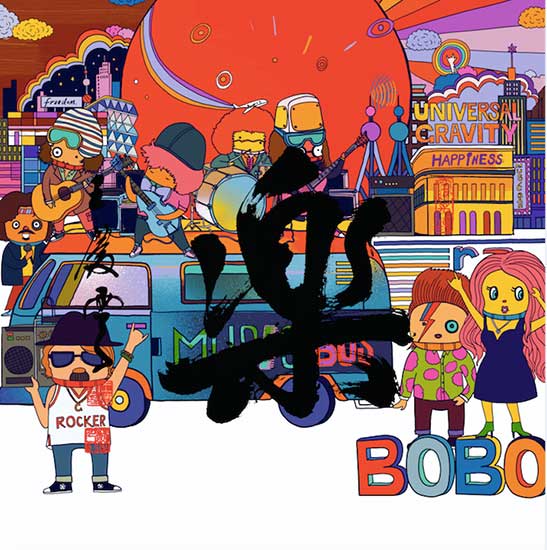 Chinese calligraphy is reinterpreted with a modern twist in the show Echo Project in Beijing, featuring works by Wang Changlong and Cheng Peng.[Photo provided to China Daily]
The completed ink writings were sent to the artists, who would merge these characters into their incomplete works.
The presentation of photos of Zhang Zijian, a Beijing-based brand designer, in the Echo Project adds a serene touch.
Zhang loves taking pictures of clouds in various shapes and shades that change because of changes of light. He chose six photos and coupled each with a two-character phrase conveying a poetic quality of the East.
The project also involves Wang Changlong's creative chic. The fashion photographer and visual artist approaches calligraphy through a play of light and shadow.
One of his photos pieces together a woman's face shot from two sides. Her luminous face seen from the left represents the bright character while the darkness of her half face on the right indicates the "evil" part.
Wang Changlong puts the character fo (Buddha) in the middle, suggesting that people tend to oscillate between the wicked and righteous sides of their personalities, and whether a person can achieve balance decides how close he or she is to enlightenment.
Illustrator Cheng Peng has found the link between calligraphy and playfulness in his vivid works.
He sticks to a style of childlike innocence that distinguishes his works.
His two paintings on show create joyful scenes of an imaginary world. He projects two characters, le (funny) and qu (interesting), each on one painting, to stress the motif of happiness and freedom.
"I have always looked to an innovative way to incorporate Eastern aesthetics in my work," says Zhang, who is also a researcher of design and an avid organizer of related activities."When I tried to source inspiration from tradition, I found my understanding of classical culture rather superficial."
He says there are too many symbolic works that reflect people's shallow readings of classical culture.
"The Echo Project allows us to take a serious look at the fascinating composition and writing process of a character, and to find the resonance with our own way of creating."
If you go
10 am-6 pm, through Sunday. Today Art Museum, Building 4, Pingod Community, 32 Baiziwan Road, Chaoyang district, Beijing. 010-5876-0600.