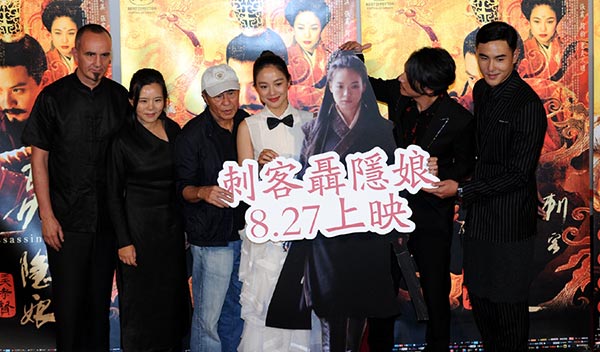 Chinese vocalist Gong Linna (2nd from left) and her husband German composer Robert Zollitsch (first from left) join Taiwan director Hou Hsiao-Hsien (third from left) and his cast in promoting their new film "The Assassin" to be released on the Chinese mainland on Thursday, August 27, 2015. [Photo/CRIENGLISH.com]
One of China's most renowned Chinese vocalists, Gong Linna, has released a new song.
The song itself is the theme for the soon-to-be-released martial arts film The Assassin by Taiwan director Hou Hsiao-Hsien.
Gong's husband, German composer Robert Zollitsch, collaborated with her to create the some Yi Ge Ren Mei You Tong Lei, or literally "A Unique Single."
Gong Linna says she and her husband watched The Assassin numerous times before putting the song together.
"In this movie, the main character is so unique that there couldn't be anyone else like her in the world. As such, me and my husband decided to name the song 'A Unique Single'. I could feel an energy and vibe when we started practicing the song. But I had to make sure that I sang it in a calm and somewhat restrained manner, as this is what comes across the most out of the main character."
The Assassin stars actress Shu Qi and actor Chang Chen.
The film is set to hit mainland theatres on Thursday.
Related:
Huang Zi: Pioneer of patriotic songs