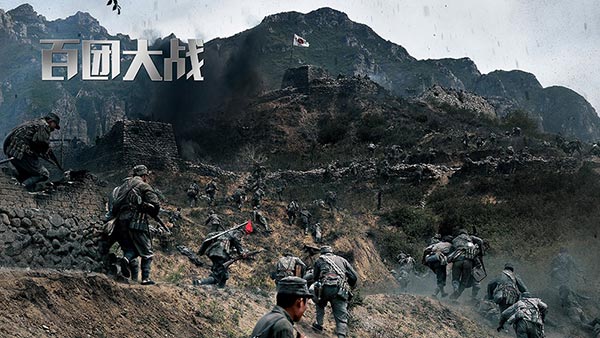 A scene from The Hundred Regiments Offensive. [Photo provided to chinadaily.com.cn]
China's giant screens have hit a record number at nearly 29,000 and will surpass 50,000 in the next five years, say insiders from a recent forum on digital cinemas.
"To date the nation has 28,968 digital screens, 6.7 times as many as the estimated number set in the 12th Five-Year Plan (2011-2015)," says Wang Fuqiang, Party secretary with China Research Institute of Film Science and Technology, at the 12th China Beijing Digital Cinema Forum.
Wang adds that China's 3-D screens now total 25,983, with a year-on-year rise of around 4,700 screens, the most in the world.
La Peikang, general manager of the China Film Group Corporation, says the domestic cinemas are experiencing a "revolution".
The group has updated all the screening equipment to be laser projectors in one of its 100 cinemas located in Beijing's Qianxi Street, making it the first of its kind in the world. Baituan Dazhan (The Hundred Regiments Offensive) was released one day earlier as part of the event in the cinema, which impressed viewers with its brightness and clarity.
Li Yi, the inventor of a new laser technology known as ALPD, predicts China's screens will surpass 50,000 in the next five years and will lead the world with the most advanced equipment.
Lu Chuan, a renowned director, says the technological improvement will make it easier for Chinese films to compete with Hollywood blockbusters.
Related:
Film doesn't expect to be loser in golden week