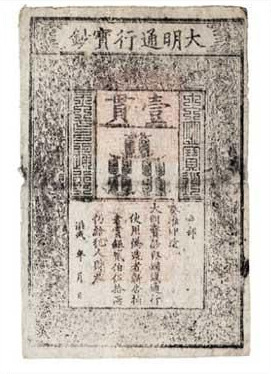 A Ming Dynasty (1368–1644) banknote. [Photo/Ecns.cn]
A batch of cultural relics including a Ming Dynasty (1368–1644) banknote issued in 1380 is on display in the Cambridge University library, Xinhua reports.
The note is made from the bark of a mulberry tree, worth 1,000 copper coins at the time. Text on the note states that it could be used worldwide, and that counterfeiters would be beheaded and those who expose them rewarded 25 oz in silver.
The university said in a statement that paper notes were first adopted in China about 4,700 years ago, 500 years earlier than in Europe and that they were widely circulated in the 11th century.
Oracle bones dating back 3000 years, together with ancient calligraphy and paintings, are also on show.