Forty-three paintings and pieces of calligraphy by Chinese painter Zhuda were on display in a recent exhibition at the Freer Gallery of Art in Washington. It was the first time in more than a decade that works by Zhuda, a famous artist whose life spanned the late Ming (1368-1644) and early Qing (1636-1912) dynasties, were exhibited.
The works of art are 43 examples of Chinese cultural relics lost overseas – no one can accurately say how many have disappeared into foreign collections. But without a doubt, the number is unfathomable. Let's take a glimpse at some Chinese treasures in the foreign museums.
Britain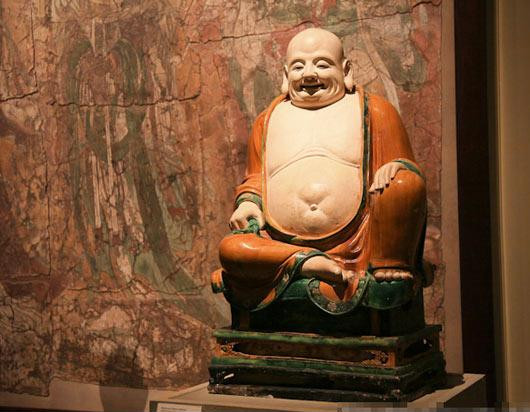 [A file photo of the Chinese cultural relics in the British Museum]
There are about 130 million cultural relics from China in major museums and libraries in the UK, mostly taken illegally during the colonial period at the end of Qing Dynasty.
Among them, the British Museum keeps more than 30,000 rare treasures from China, including ancient calligraphy and paintings, ancient books, jade articles and porcelain and bronze vessels. They cover a history of 7,000 years and many are unique items, such as a Tang Dynasty (618-907) copy of Admonitions of the Court Instructress to Palace Ladies, a famous painting in the Eastern Jin Dynasty (317-420) and Visiting a Friend with Musical Instruments, a painting by famous artist Fan Kuan in Northern Song Dynasty (960-1127).
Visitors can catch sight of Chinese national treasures like bronze vessels from the Shang (1600 BC-1046 BC) and Zhou dynasties (1046 BC-249 BC), rare frescoes and documents from Dunhuang and Tang Dynasty tri-colored glazed pottery in the British Museum.