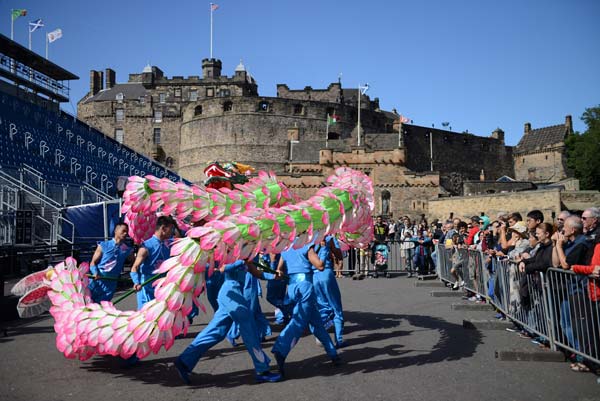 Performers from Changxing county, Zhejiang province, stage a dragon dance on a plaza in Edinburgh, Scotland, on Monday. GUO CHUNJU/XINHUA
A number of Chinese cultural activities and events will be held in Britain this year, Liu Xiaoming, China's ambassador to the UK, said on Tuesday.
"As part of the China-UK Year of Cultural Exchange, the China Cultural Season will include many performances and events, bringing our cultural exchange to a new level," Liu said in a speech to mark the beginning of the season.
In August, the Military Band of the People's Liberation Army of China will perform at the Royal Edinburgh Military Tattoo.
Chinese pianist LangLang will give performances at the Edinburgh International Festival. In addition, Zhejiang's Changxing Lotus Dragon Dance Folklore Group will hold a first performance in Edinburgh, with the National Theatre of Scotland and Tianjin Children's Art Theatre jointly performing a drama named Dragon.
"Culture knows no borders; exchanges see no finish line; geographic borders are no barrier to the cultural exchanges between China and the UK," said Liu.
The China Season will include creative industry and cultural trade forums and a China-UK video festival, and it will feature a Shenzhen-Edinburgh international creative industry incubation center.
In addition, Shanghai fashion week will debut at the London Fashion Week.
It also includes the Amazing China: 2015 Mobile Phone Photo Contest, a global competition jointly held by China Daily and the Royal Photographic Society from August to November.
"The year of 2015 is a big year for China-UK relations," Liu said, adding that President Xi Jinping will visit the UK in October.
This is the first China-UK Year of Cultural Exchange, said Xiang Xiaowei, cultural counselor of the Chinese embassy in the UK.
During Premier Li Keqiang's visit to the UK in June last year, the two countries agreed to set 2015 as a year of cultural exchange, with the first half being UK Season in China and the second half China Season in the UK.
In March, the Duke of Cambridge visited China and launched the UK Cultural Season.
Catherine Mallyon, executive director of the Royal Shakespeare Company, said the company is planning to translate Chinese classics into English.
Keith Nichol, head of cultural diplomacy at the British Department of Culture, Media & Sport, said, "It is really important that culture-to-culture exchanges embrace the whole of the UK so that people get the chance of visiting them."
David Allfrey, chief executive and producer of the Royal Edinburgh Military Tattoo, added: "I think we have so much to learn from each other."
Contact the writers at zhangchunyan@chinadaily.com.cn, zhangzhouxiang@chinadaily.com.cn