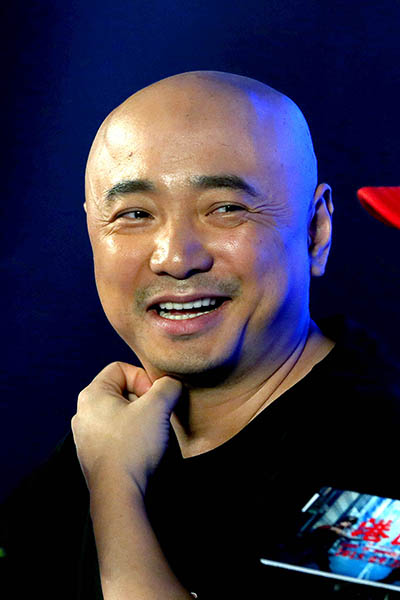 Chinese director Xu Zheng. [Photo by Jiang Dong/ For China Daily]
In the fiercely competitive summer market, Xu Zheng, the director of China's former highest-grossing blockbuster, recently showed a "Hollywood" spirit to the rival who surpassed him.
On July 26, the live-action animated movie Monster Hunt grossed 1.3 billion yuan ($209 million), overtaking Xu's Lost in Thailand (12.7 billion yuan) to surge as the largest homegrown movie in the history of Chinese cinema. To date, Monster has brought in 1.5 billion yuan to replace Hollywood's sci-fi epic Avengers: Age of Ultron to become the third-highest movie release ever on the mainland.
When most domestic media speculated Xu may feel "lost" to lose the glory, he and his marketing team made a surprisingly generous move. They released a poster featuring Monster and Xu's upcoming sequel, Lost in Hong Kong, at a Monday press conference.
"I heard it's a Hollywood tradition that an old box-office champion will celebrate the new winner by tailoring a poster featuring both of them. It deserves an Oriental copy," says Xu.
"Amid the fast-booming market, it will be a normal phenomenon to see the records broken again and again. When the public gets used to that, they will not care so much about the box office, but pay attention back to the content."
When talking about his Lost sequel — the third installment of the comedy franchise after Lost on Journey in 2010, and Lost in Thailand in 2012 — Xu promises it will be a "brand-new" movie, with only the title connecting to the last installment.
Bao Bei'er, a rising actor who has played many supporting roles in hit series and movies, replaces veteran actors Huang Bo and Wang Baoqiang (previous two films' leads) to take a surprise starring role in the movie.
Responding to controversy about the choice on the Internet, Xu says Bao is the only star "fit for the character".
Revolving on the middle-age crisis, Lost in Hong Kong will hit the mainland theaters on Sept 25.
Related:
Hedgehog poised for virtual-reality movie stardom