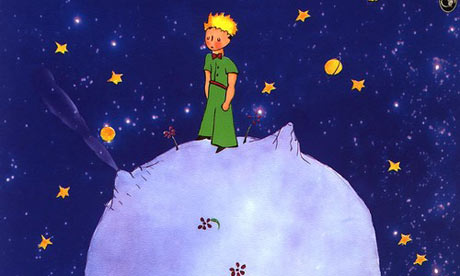 A illustrated page from "The Little Prince". [Photo/Agencies]
The casting announcement for upcoming animated film "The Little Prince" triggered an outpouring of nostalgia from Chinese web users this week as thousands of people shared their memories of their favorite childhood story.
In anticipation of the big screen debut of Antoine de Saint-Exupery's beloved childhood classic, the hashtag "when I was a little prince" attracted more than 68,000 posts, with people uploading photos and sharing memories of the story as children.
"Childhood was about mom's hug, dad's shoulder, milk boxes on the porch and grandma's smile amid cooking smoke," user "Malabiaoge" wrote while sharing several photos taken with his parents when he was five years old.
Fans of the much-loved tale exchanged information about which edition they owned. "The one on my bookshelf was printed in 1994, what about yours?" one comment read.
Since 1981, more than 60 editions of the 1943 novel have been published in China. It is a favorite story among those born in the 1980s and 1990s under the country's one-child policy.
The hashtag also awakened memories of childhood in China at the turn of the century - marbles, pencil boxes, recording tapes, etc.
"When I was small and hadn't seen much of the world, a box of chocolate could make my whole day," one person commented.
User "Yisiqian" said she burst into tears while watching the film's trailer. "I thought of my best friend in primary school who I haven't seen since moving to another city with my family."
Living alone, 1,000 kilometers from home, she said "sometimes I just want to go back to childhood."
Fans wrote classic quotes from the novel and dedicated photos online to the story's main character.
A man screen named "Craig" shared his favorite line: "All grown-ups were once children...but only few of them remember it."
"I indulged myself in the novel when I was a kid, but I grew up to find it is a book dedicated to adults," he commented.
According to a news release, the animated film, produced by On Animation Studios, is scheduled to hit the Chinese market this autumn.
Related:
Movie screens in China hit new record