W Hotels offers stylish way for a healthier stay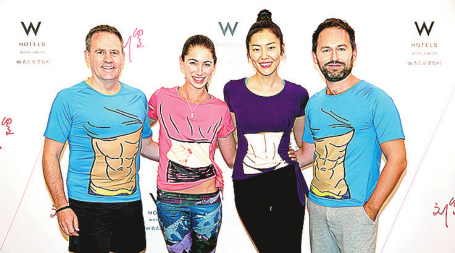 Tara Stiles (second from left), one of the world's top yoga instructors and founder of Strala Yoga, and supermodel Liu Wen at the China launch of W Hotel's quick yoga fix in Beijing on Aug 30. Photo provided to China Daily
W Hotels Worldwide, part of Starwood Hotels and Resorts Worldwide Inc, recently launched an innovative and exclusive workout program designed by Tara Stiles, one of the world's top yoga instructors and founder of Strala Yoga, a movement-focused form of yoga that she says "ignites freedom".
Stiles' quick yoga fix for W Hotels can be enjoyed in 45 of its properties worldwide, with in-room workout tips including four sets of videos and instruction cards provided to guests.
Tara Stiles yoga sessions will also be launched in W resorts to help customers purify their bodies and minds amidst some of the world's most enchanting scenery.
Stiles created the exclusive in-room fitness program based on her own experiences as a guest at various W hotels around the world.
The company says that the yoga workout designed by Stiles can ease the discomfort caused by exhaustion, jet lag, and hangovers, and will help customers regain vitality.
"It was a new challenge for me to develop the yoga program in cooperation with W Hotels. We hope to the hotel guests will be able to experience the positive benefits from the yoga during their stays," Stiles said.
W Beijing Chang'an invited Stiles to participate in a three-day promotional activity in the capital to promote the program.
On Friday, Stiles did some of her innovative yoga on the Badaling Great Wall, followed an hour-long "yoga party" in the W Beijing Chang'an the next day with supermodel Liu Wen, a senior hotel manager and over 100 yoga fans. .
"I like yoga very much and feel honored to participate in such a stylish yoga activity with Tara. Through her demonstration, I have learned how to quickly relax my mind and body in a hotel room. I also like the perfect integration of W Hotels' fashion, design and music with an interest with sports," Liu said.
Liu designed a special yoga top for the program. Available in three different colors, the tops will sold in W hotels for a limited time with all proceeds going to the United Nations Children's Fund, a long-term partner of Starwood Hotels and Resorts Worldwide Inc in China.
On Sunday, Stiles completed her morning yoga in a transparent touring car to start the day.
"By practicing the quick yoga fix Stiles designed for W Hotels, our customers will not only be revitalized during their stays, they will also experience the lifestyle we always propose. Also, the cross-boundary cooperation with Liu has shown our positioning as a fashionable hotel brand," said Arnaud Champenpis, senior director of W Hotel's Asia-Pacific brand management department.