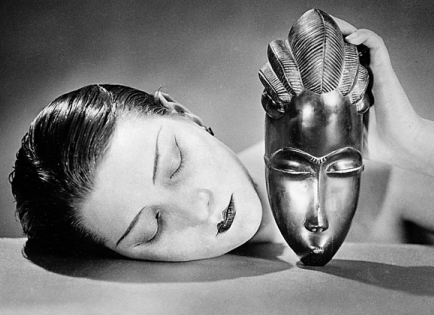 The photo exhibition Icons and Beauties features works by world-acclaimed photographers such as Noire et Blanche by Man Ray. [Photo provided to China Daily]
Icons and Beauties, an ongoing photo exhibition at Christie's Shanghai gallery, takes viewers on a journey through the lens of time.
It teams up a dozen prominent 20th-century photographers, whose works on show mix sensuality and aesthetics. The big names include Henri Cartier-Bresson, Harry Callahan and Hiroshi Sugimoto. In a way, the display helps people understand the evolution of photography and its role in shaping aesthetics.
The exhibits feature portraits of women representing avant-garde tendencies from parts of the last century, as well as images of iconic artists such as Spanish master Pablo Picasso.
The juxtaposition feels "didactic and sexy at the same time", says show curator Matthieu Humery, who is also the international director for Christie's private sales and business development in Asia.
According to Humery, himself an expert in photography, the exhibition reflects the photographers' distinctive ways of exploring the shared subject of "women in reclining postures".
American artist Man Ray produced a surrealist image, one of the dominant movements in the 1930s, in a photo of 1929, titled The Primacy of Matter Over Thought.
British photojournalist Bill Brandt turned the model in Nude (1955) into a gesture of distortion, which was "very much in line with the research between form and volume in the 1950s", Humery says.
Helmut Newton, a prolific German-Australian fashion photographer, captured changes in color in his Villa d'Este (1975)-considered an innovative approach back then.
Also on show is Picasso and the Loaves (1952), a highly memorable snapshot by Robert Doisneau, a French photojournalism pioneer. Marked with playfulness and amusement, the photo features the great Spanish artist sitting at a table, with two bread loaves looking like his hands.
Even though Japanese photographer Sugimoto's photos of movie houses, such as his Tempa Theatre (1979), show no glamorous women or celebrities, he presents such places as icons of a bygone era. The luminous blank screens and architectural details of the theater's interior, for instance, create the sense of nostalgia, and its empty spaces that were once filled with people hint at a sense of sadness.
The exhibition is part of the Photo Shanghai, an art fair that will be held in the city from Friday to Sunday, to cater to the rising interest of the public in photography.
Humery remembers the words of Pierre Apraxine, a former curator of the Gilman Paper Company Collection, who had once said: "The limits of collecting are the limits of your imagination. To collect photography is to collect the world."
Humery says the value of a collection is always made with a personal and a specific point of view, and many great collectors are not afraid to mix the unknown and known, inexpensive and expensive photos.
"It makes the collecting process very interesting and affordable to everyone," Humery says.
Photography is relatively more affordable than other categories of art. But that doesn't mean one collects only for the sake of lower costs, or that one doesn't need to learn but just follow the instinct to buy such items.
"Make sure you buy something in a good condition, printed under the supervision of the artist, signed and numbered when it is supposed to be so," Humery says.
If you go
10 am-6 pm, through Sept 18. Christie's Shanghai Art Space, Ampire Building, 97 Yuanmingyuan Road, Shanghai. 021-6355-1766.