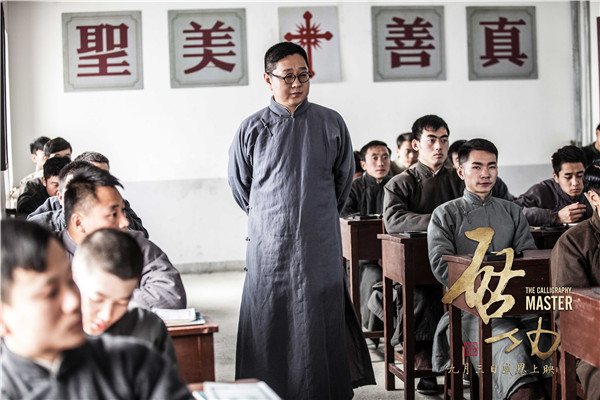 The biopic The Calligraphy Master is about the legendary life of Qi Gong and his influence on generations of Chinese people. [Photo provided to China Daily]
The works of Qi Gong (1912-2005) have long been the target of forgery, but during his lifetime, the Chinese calligraphy master seemed to not mind the fakes much.
"They write better than me," he once joked about one such forger, and even forgave the act, thinking the person did it for a living.
This anecdote is part of The Calligraphy Master, a movie on Qi's middle age and later years, which will hit mainland cinemas on Thursday.
As one of China's most prestigious calligraphers and a renowned ink painter, art connoisseur and teacher, Qi has influenced many generations.
In a homage to his contribution to the arts and culture, the movie debuts on Sept 10, when China celebrates Teachers' Day. In 1991 Qi had initiated a scholarship to support poorer students at Beijing Normal University.
Qi had witnessed turbulent times from the days of the Republic of China (1912-49) up to the "cultural revolution" (1966-76). But he never gave up on his artistic pursuits, even in difficult situations. His talent turned him into a cultural icon in the 1980s.
"Qi was treated unfairly by the then-revolutionaries for most of his life. This cultivated his personality of tolerance and generosity," says chief director Ding Yinnan.