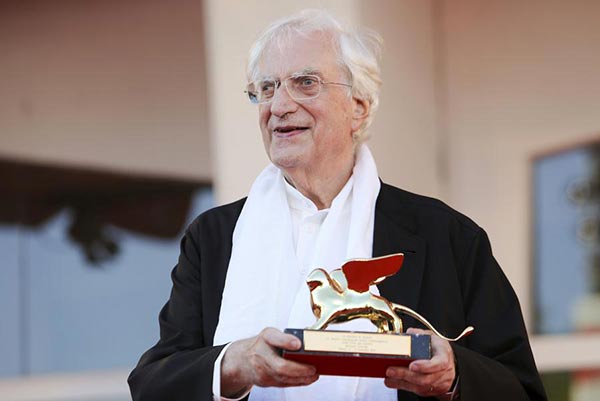 Director Bertrand Tavernier receives his Golden Lion For Lifetime Achievement at the 72nd Venice Film Festival, northern Italy, September 8, 2015. [Photo/Agencies]
French director Bertrand Tavernier received the Golden Lion for Lifetime Achievement of the 72nd Venice International Film Festival in Venice on Tuesday.
A ceremony was held after the screening of the 1989 film La vie et rien d'autre (Life and Nothing But), a masterpiece of Tavernier.
The film, which won the Best Foreign Language Film at BAFTA Awards in 1990, tells a story of a man whose job is to identify unknown dead soldiers after World War I, and the romance and dilemma that occur during this complex and emotional journey.
The decision was made by the Board of Directors of the Biennale di Venezia, chaired by Paolo Baratta, upon recommendation of the Director of the Venice Film Festival Alberto Barbera.
Barbera referred to Tavernier as "central figure in French filmmaking."
"He is also a fervid film critic, with a decidedly anti-academic leaning and a predilection for discovering and re-assessing unknown artists," Barbera said.
"He has put this talent to good use in memorable writings that are required reading for anyone interested in exploring the history of French, American or Italian cinema in particular," Barbera added.
Tavernier previously presented two films in competition at the festival, Round Midnight in 1986 and the detective film L. 627 in 1992.
He has also participated in two other major European film festivals in Berlin and Cannes, winning significants awards in both. Round Midnight also won an Oscar for Best Original Score.
The 72nd edition of Venice International Film Festival runs from Sept 2 to 12 in the island of Lido, with 21 film competing for the Golden Lion and 15 making world premieres.
Related:
Chinese film 'Jia' premieres at Venice Film Festival