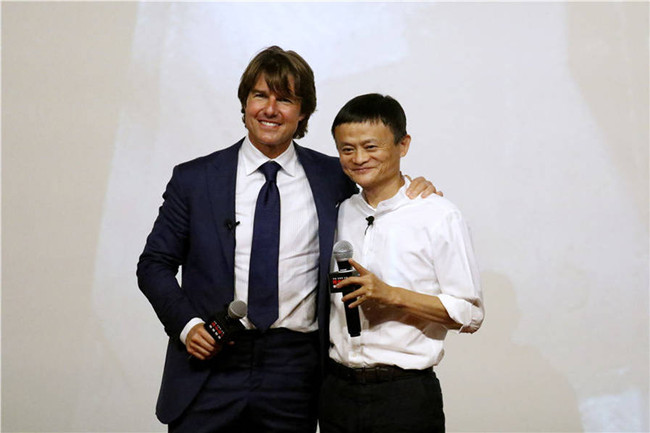 Tom Cruise and Jack Ma are posing for pictures at the fan meeting event for the movie "Mission impossible: Rogue Nation" in Shanghai, China, 6 September 2015. [Photo/Ifeng.com]
"Mission Impossible: Rogue Nation" has been released in Shanghai yesterday.
The movie is set to hit Chinese theaters nationwide tomorrow.
Leading actor Tom Cruise along with Rebecca Ferguson has attended the premiere to promote the film.
"When you see this film, from the opening frame to the end, you're gonna see things that you really haven't seen in screen before. Today, audiences see so many things with visual affects, but when you're looking at the plan, you looking at the motorcycles, you're looking under the water…We use visual affect to help in certain areas but when it comes to the shot, it's really, we're doing it."
In the fifth episode of the Hollywood blockbuster, Ethan and team are taking on their most impossible mission yet, eradicating the Syndicate - an International rogue organization as highly skilled as they are, committed to destroying the IMF.
An unexpected guest showing up on the red carpet was Jack Ma, tycoon of the Chinese e-commerce giant Alibaba, which has invested heavily in the movie, confident of good returns.
Jack Ma speaks highly of Tom Cruise with a great attitude of self-mockery.
"How can a man be that handsome? And how can a handsome man be that great? You know, I'm considered as the most ugly and unique looking person in China. That is why when I'm looking at a handsome man, I'm always jealous. But I'm never jealous of him. He's so great. Congratulations to all those great movies. "
It is also Alibaba Pictures' first involvement in a Hollywood movie.
Statistics show the previous four Mission Impossible films grossed more than 2 billion US dollars worldwide.