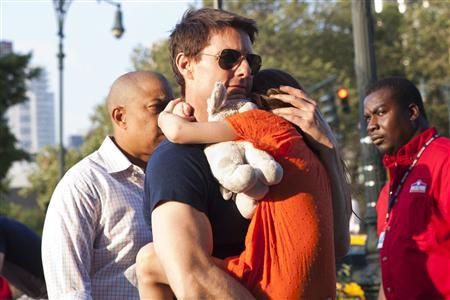 Actor Tom Cruise carries his daughter Suri into the Chelsea Piers sports facility in New York, July 17, 2012.[Photo/Agencies]
Actor Tom Cruise called reports that he had abandoned his daughter Suri after his divorce from actress Katie Holmes "patently false" in court documents for a defamation and invasion of privacy lawsuit against a German media company.
In a declaration that offered a rare glimpse into the actor's marriage and his Scientology religion, Cruise said he had "in no way cut Suri out of my life - whether physically, emotionally, financially or otherwise."
The declaration was filed this week in California federal court as part of the ongoing lawsuit, which is asking for $50 million in damages.
In a September video deposition as part of the lawsuit, Cruise's life with Holmes and Suri came under scrutiny. In court transcripts, the 51-year-old actor said that while Holmes, 34, was a practitioner of Scientology before and during their marriage, she left the church when she filed for divorce.
He said one of Holmes' "assertions" for the divorce was that she wanted to protect Suri from Scientology. He added that 7-year-old Suri, his daughter from his marriage to Holmes, was not currently practicing the religion. 
Related:
Tom Cruise's 'Oblivion' premieres in Tokyo