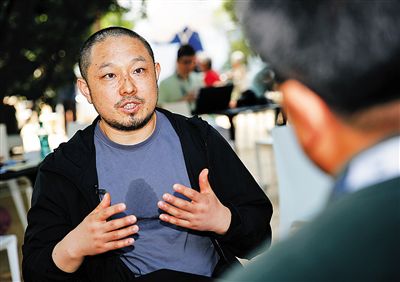 Liu Shunmin, director of the film "Jia", gives an interview in Venice Film Festival. [Photo/CNTV] 
Given the pace of change in China in recent decades, misunderstanding between the generations is perhaps inevitable. A new film tackles these tensions head-on, using non-professional actors. Simply called "Jia", or "The family", it has just debuted at the Venice Film Festival.
At four and a half hours in length, this film calls for a dedicated audience. The main characters are an elderly couple trying to cope with the forces that separate families. Their elder daughter is divorced and a single mother, while their second daughter and their son live in distant cities. All are too busy to visit their parents, so the parents decide to make the long journey to visit them.
According to Liu Shumin, the film's director, it's a familiar pattern in modern China.
"Their son and daughters are not in close touch. The old couple hopes to reunite them through their efforts. They do this hoping that family members will always remain close," Liu said.
For his cast, Liu chose amateur actors, a brave call for this first-time director, but he argues this makes for a captivating result.
"Amateur actors brought me something different that the script didn't tell. As a director, I mainly tried to let them show their own characters. In this way, I could enrich the script instead of using the script to limit them," Liu said.
Before shooting started, Liu arranged for the main characters to live together for a month, in order to make them feel more like a family. Certainly, a documentary style comes across.
The director's dedication, as well as that of his producer, is also evident from the timeframe of the project, taking five years in all.
For these co-creators, the Venice screening is a dream come true. And they are looking forward to sharing the film at other international festivals, revealing more to the world about modern realities in China.