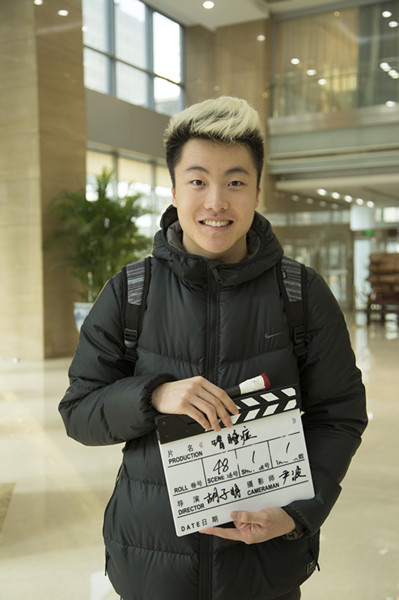 Hu Ziming has done in six films, including his latest short movie, Hypersomnia. [Photo provided to China Daily]
Stylish and confident, 17-year-old Hu Ziming stood in front of a screen in Beijing's downtown in late August and shared with audiences his experience producing his recently finished short movie, Hypersomnia.
The 27-minute movie, which screened in Beijing in August, has already won acclaim from some well-known names in China's film industry.
It revolves around a man who confuses his current life with the past and struggles to return to his normal life. It's a story Hu wrote two years ago, inspired by the film American Psycho (2000).
For the young director, who is still in 11th grade in the United States, it's the first time to work with a professional team to put his work on the silver screen. However, it's not his first movie. He started filming at the age of 10, producing a short animation on his own. Hypersomnia, in fact, is Hu's sixth work.
"He's good at using filming techniques and telling stories. He has a nice understanding of the lens," says award-winning film director Zhuang Yuxin.
"I think it's normal for China to have talented young directors now since society has improved a lot compared with 20 years ago, a period when many directors were unable to finish a work at such a young age."
Zhao Yunfei, the lead actor in Hu's film, says he was astonished to see that the director was a fashionable teenager with dyed hair. But working with Hu felt no different from his experiences in other films.
"He's mature and knows exactly what he wants. I totally forgot his age when working with him," Zhao says.
Born in a Shanghai family of directors and scriptwriters, Hu grew up immersed in filmmaking. His grandfather, Hu Wei-min, was an influential drama director in China, who was dedicated to mixing Eastern elements into Western dramas like Shakespeare's.
At age 13, Hu traveled to the Tibet and Inner Mongolia autonomous areas, making a short documentary on their environments and local cultures.
He also got lots of internship experiences in many films, such as Zhang Yimou's latest work, Great Wall.
"I feel lucky. My family supports me to do what I like," says Hu. Before Hypersomnia, he produced all five of his other works on his own.
While he's producing films, Hu is also preparing to apply for US universities. He expressed his appreciation of Hollywood, a place where he wants to learn more to improve his ability to shoot Chinese movies.