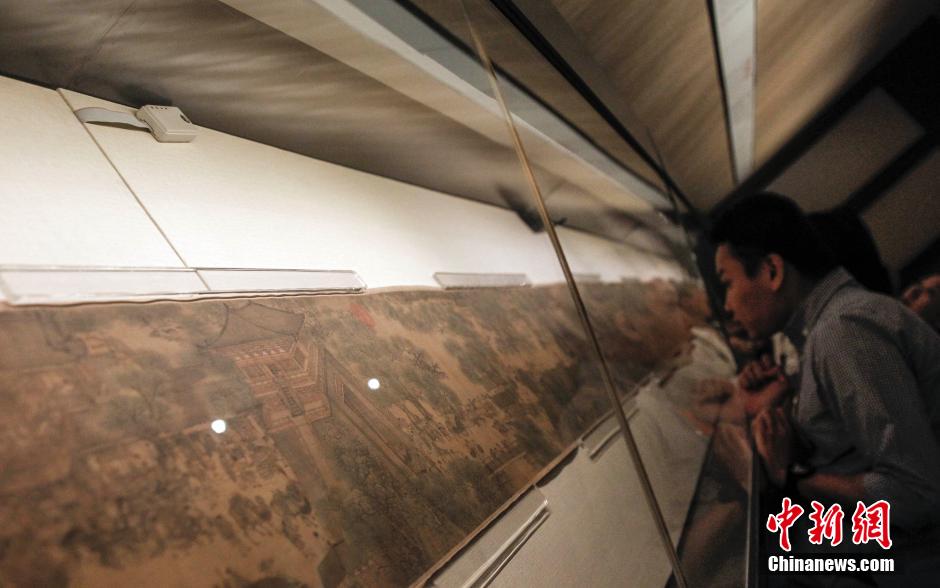 A visitor views the real Riverside Scene at Qingming Festival .[Photo/Chinanews.com]
Beijing's Palace Museum - located in the Forbidden City - is bringing out the best of its treasures for 90th-Anniversary commemorations. Among the highlights are the Stone Moat collection, comprising ancient China's renowned painters and calligraphers.
'Letter to Boyuan' by Wang Xun dates from the Fourth Century A.D., as does Gu Kaizhi's 'Nymph of the Luo River'. These are among the priceless works now on display in the Forbidden City.
The 'Penta-Bull' painting of Han Huang is the earliest surviving example of Chinese ink painting on rice paper. Dating from the Tang Dynasty, this work has political as well as historical provenance, as it was purchased in the 1950s by then Chinese Premier Zhou Enlai.
And, among the exhibition's most renowned scroll paintings is the 12th-Century work, Riverside Scene at Qingming Festival, by Zhang Zeduan. It's been 10 years since this was last available for public viewing.