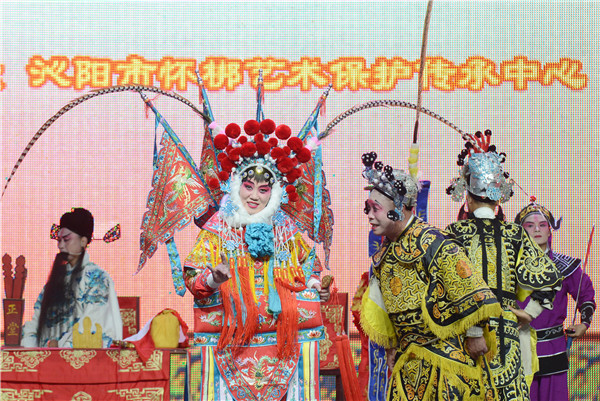 Artists perform Huaibang drama in ancient costumes in Qinyang city, Central China's Henan province, June 13, 2015. Huaibang has become rare in recent years. [Photo by Yang Fan/asianewsphoto]
Folk dramas, a traditional form of Chinese culture, are fighting for survival in the modern age.
According to cultural authorities, traditional drama genres have fallen to 286 from 368 in 1959, the equivalent of three dying out annually.
Worse still, there are 74, each with only one troupe of performers remaining, leaving them on the verge of extinction.
With the demise of the old generation of artists, some dramas have been officially listed as protected cultural items, but still they decline.
Take Sai drama in North China's Shanxi and Hebei provinces. In 2008, it was inscribed as an intangible cultural heritage on a national level. Yet no performance of Sai can be seen today, it has become a "lost art".
To strengthen protection of this particular Chinese culture, regulations on supporting the development of dramas were issued in July.
"People realize that someone has to take responsibility for water loss and soil erosion but how can we feel at ease when we see the very survival of so many folk dramas at risk," said Xie Bailiang, a professor with the National Academy of Chinese Theatre Arts.
He said that issuing a national policy to protect drama comes just in time and there is hope for the rebirth of traditional drama.
But Xie is worried about the outflow of talent from the drama circle. He said that there were more than 100 Sichuan opera troupes in the 1960s, but now only a dozen remain.
Statistics reveal that the number of performers has been in decline from 1980 to 2000, and low incomes are a major reason.
Cultivation of young performers is also difficult. Fewer choose drama as a career, partly because they are not willing to bear the hardship of learning, and partly because the income is not good enough.
Directors and scriptwriters are rarer. Chinese Culture Minister Luo Shugang once said some theatres deserted drama creation which caused many talented scriptwriters to change their profession. As a result, original creativity of Chinese drama is declining and good plays are in the minority.
"Once losing cultural memories, it will be difficult to find our way home," said Sun Jiazheng, chairman of the China Federation of Literary and Art Circles.