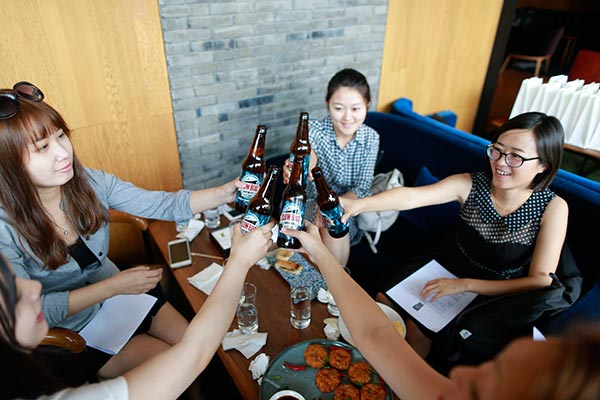 Beer fans enjoy a brew at a festival. [Photo by Feng Yongbin/China Daily]
Slutty mermaids? Zombie pirates? These are just two of the eccentric namesakes of Slow Boat Brewery's current crop of craft beers, which you might find this weekend at the Beijing Autumn Craft Beer festival, which Slow Boat is hosting at East Hotel. Like last year's event, hops-and-malt magicians from all over China will be there with their wares, from capital standouts like Great Leap Brewing and Jing-A to brewers from Wuhan, Dali, Chengdu, Hefei, Qingdao and Nanjing who will make a special trip for the weekend of suds and fun. There will also be booths featuring homebrewing as well as food vendors including Home Plate BBQ, Hagaki and Andy's Sausage.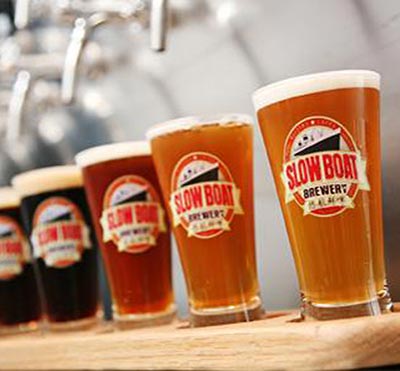 Slow Boat Brewery. [Photo by Feng Yongbin/China Daily]
While recent official efforts to control crowds in the capital have curbed some of the freewheeling beer festivals of the past, this weekend's craft brew fair is designed to keep things manageable on the grounds of one venue – attracting seekers of China's best craft beers. For those traveling to Beijing for the festival (and those who just don't want to drive home afterward), the hotel is offering a special rate. Simply mention the Beijing Autumn Craft Beer Festival when you book your room to get the discount
Friday 5-10 pm, Saturday noon-10 pm at East Hotel grounds, 22 Jiuxianqiao Road.
Related:
Delicious bites in record-breaking sizes