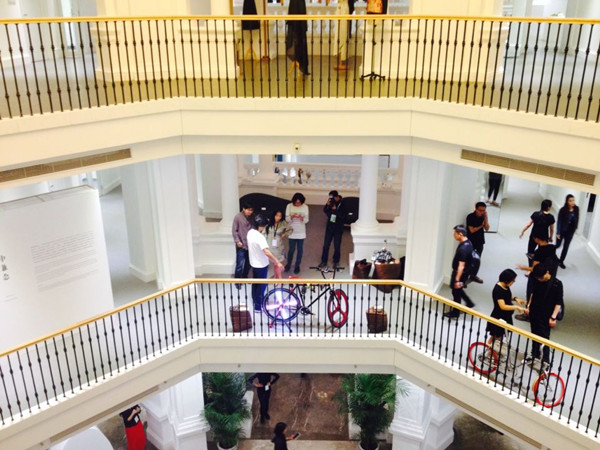 2015 Beijing Design Week kicks off on Wednesday, Sept 24, 2015. An opening ceremony was held in Quanye Chang, Beijing's first commercial building dating back to 1905 in Dashilar. [Photo/ECNS]
The 2015 International Beijing Design Week (BJDW) kicked off on Wednesday, highlighting designs that are open and inclusive, and devoted to improving people's lives.
Co-hosted by the Ministry of Education, Ministry of Culture, Ministry of Science and Technology and the Beijing Municipal Government, BJDW attracts over 2,000 designers and industry experts from all over the world, as well as more than five million visitors each year. It offers the largest and most influential platform in Asia for display, promotion and trading of creative designs.
"This year we want to focus on open heart design," Jia Rong, executive director of the Dashilar project, said at the opening ceremony. "This means we need to learn from the rest of the world and be brave enough to be ourselves."
Each year, BJDW invites a foreign guest city to present its designs. After featuring London, Milan, Amsterdam and Barcelona, this year's guest city is Dubai. It will display designs that draw inspiration from nature and urbanization.
Wang Lijun, deputy secretary of Beijing's Xicheng District, said that great designs should enrich public life.
"They bear the task of rejuvenating culture, instead of merely changing the form of architecture," he said.
The program in Dashilar, entitled "Dashilar Pilot" and curated by Italian artist Beatrice Leanza, showcases such ingenuity.
A major venue of the BJDW, the Dashilar area is to the south of bustling Tiananmen Square and dotted with hundreds of old-fashioned courtyard houses that have fallen into a state of decline.
During the week, which will run until October 7, the Dashilar area will display 79 exhibitions of architecture, home décor and new material that explore ways to restore its vibrancy with indigenous and sustainable designs.
According to Jia, this year's exhibitions will enable more interactions with visitors. For example, people could join virtual tours guided by locals on WeChat, a popular instant messaging app in China.