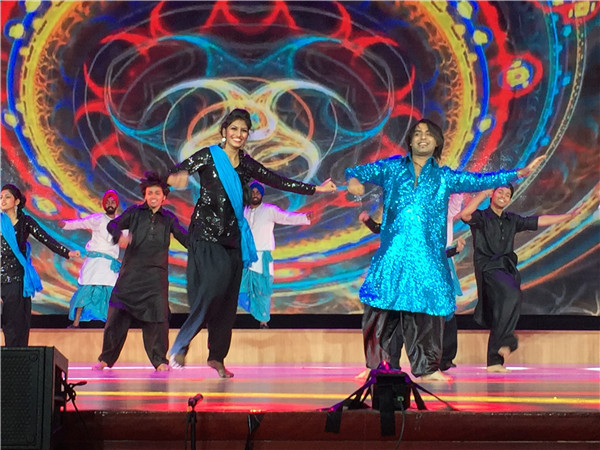 Bollywood dancers pare one of the highlights at the Second Silk Road International Arts Festival in Xi'an. [Photo by Deng Zhangyu/China Daily]
The 2nd Silk Road International Arts Festival concluded on Tuesday in Xi'an, capital of West China's Shaanxi province. Artists and companies from 62 countries participated in the festival, almost double in number compared with last year.
Jointly sponsored by China's Ministry of Culture and the Shaanxi provincial government, the two-week event included more than 100 performances, 30 cultural lectures, 15 forums and seminars, five international exhibitions and an animation-design competition.
Organizers set up a Children's Theater Week for the younger generation, with nine companies from home and abroad staging 22 performances. Another highlight was an animation show, complete with cosplay characters.
They also arranged a large number of cultural activities for the grassroots. Twenty noted scholars gave lectures in universities and communities for free, while more than 200 artists from China and abroad carried out more than 40 performances in factories, campus and residential areas with a lowest ticket fee of 10 yuan ($1.6).
From 2011 to 2014, the economic growth of Shaanxi province ranks foremost in the country. Balanced development in both economy and society brought the province the ability to hold such a large-scale arts festival.
In 2013, Chinese President Xi Jinping proposed the Belt and Road Initiative to revive overseas cooperation along the Silk Road and the marine routes. That was also the genesis for this arts festival, now in its second year.
In ancient times, the Silk Road was a network of trade and cultural exchange routes connecting West and East. In this era, Xi'an, the Tang Dynasty (618-907) capital of China, showed its refulgence in arts and culture on the ancient Silk Road, a brilliance captured once again by this festival.
Like what Chinese Culture Minister Luo Shugang said at the opening ceremony this year, the cultural project of China's Belt and Road Initiative will "drive the understanding of both Chinese culture and those of nations on the Silk Road."