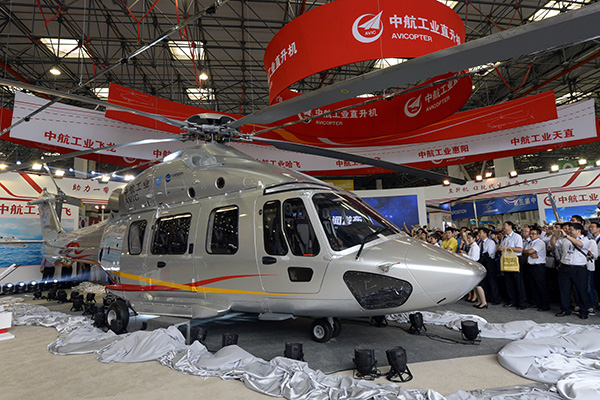 An AC352 helicopter made by the Aviation Industry Corp of China on show at a recent expo in Tianjin. [Photo/China Daily] 
Three affiliate firms suspend trading in their shares in run-up to massive recast
Three listed companies controlled by the Aviation Industry Corp of China suspended trading in their shares on Thursday, the first trading day after the week-long National Day holiday, due to the parent company's restructuring of its aero-engine assets.
AVIC Aviation Engine Corp Plc, Sichuan Chengfa Aero Science and Technology Co Ltd and AVIC Aero-Engine Controls Co Ltd all issued separate notices, confirming a halt in trading of the stocks.
One industrial analyst, speaking on condition of anonymity, suggested the long-speculated project to reshape the nation's aircraft and gas-turbine engine research facilities, could cost it 100 billion yuan ($15.7 billion). But, the analyst said, it was strong evidence the central government is paying more attention to a strategic redevelopment of the aviation sector.
Plans for a national restructuring of the aircraft and gas-turbine engine sector were approved in the second half of 2014, the Economic Information Daily reported on Thursday. The plans mark the 20th major technology program likely to benefit from investment of no less than 100 billion yuan over the next decade.
According to Wu Jiangtao, an analyst with Northeast Securities Ltd, engine research and development will be for both military and civil use, while a new generation of gas-turbine engines would be able to "enhance China's manufacturing ability in fossil fuel-fired power generation as well as shipbuilding sector".
Wu said the efforts are likely to be aimed at expanding engine sales both domestically and in countries involved in the Belt and Road Initiative, but also represented a significant breakthrough for the nation's military aircraft manufacturing abilities.
Engine building was for years a weak point of China's aviation industry, with a significant proportion of both military and civil aircraft engines coming from overseas, said the analyst.
The United States spent $100 billion on basic aircraft engine research between the 1950s and 2000, while during the same period China's investment was estimated at $78.5 million, official figures show.
Lin Zuoming, AVIC's president, was quoted in August as saying that successful aircraft engines cannot simply be designed or manufactured, but are the result of long and sometimes expensive research processes.
Over the next 20 years, China's combined demand for aircraft and gas turbine engines is expected to exceed 3 trillion yuan, with the required total investment estimated to reach between 200 and 300 billion yuan, according to a report from Haitong Securities Ltd.
Wu said investing in domestic engine research and development will first cut dependency on foreign engine brands such as Boeing Co, Airbus Group, General Electric Co and Rolls Royce Holding Plc, and later lead to wider benefits for other related industries.
As many of China's international competitors are still well ahead in terms of engine technology, initial development work is likely to focus on basic research and specific areas in which China could become competitive, said Wu.