AVIC works to help Africa soar
The Chinese giant with roots in aviation technology is looking to help the continent with issues such as boosting electrical power generation
Energy shortages and the lack of technical and vocational training in Africa, two problems that put a drag on the continent's ability to take off industrially, are two areas that China's AVIC International Holding Corp is targeting.
Liu Jun, executive vice-president of the state-owned company, talked about the company's plans in an interview with China Daily as he attended the New York Forum Africa, held in Libreville, Gabon, from Aug 28 to 30.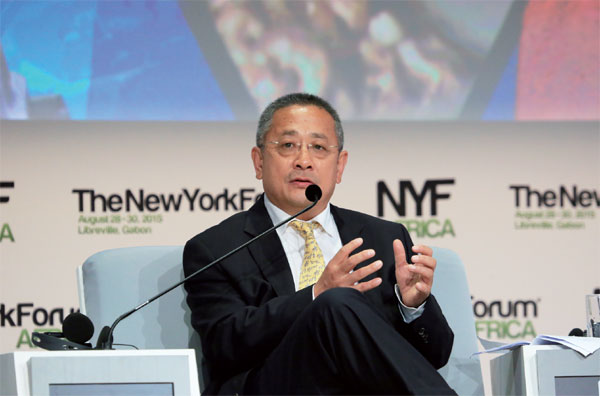 Liu Jun says the priority areas will help African countries better prepare to receive industrial capacity transfers from China. Provided to China Daily
Liu says the priority areas will help the continent's countries better prepare to receive industrial capacity transfers from China, which are seen as an important way to boost growth in Africa.
AVIC International is well-equipped to handle the challenges. It has over 80,000 employees in more than 180 countries and regions and is controlled by the giant Aviation Industry Corp of China, an aerospace and defense company, the AVIC website says. AVIC has been in Africa for 30 years and has diversified its businesses there to include infrastructure and livelihood projects.
Not only has China gained lots of experience and developed high-end technology in the energy industry, the industry in China has excess capacity, Liu says. Meanwhile, this capacity is badly needed by many African countries.
However, considering the high cost and the lack of support from African governments, he says it's still challenging to promote new energy in the continent.
Major power cuts are still happening in some African countries due to shortages, but power is a must for the development of these countries and to make industry transfers from China practicable. "Power to those countries is just like blood to human bodies. It will make those countries energetic," he says.
"Not only does China have advanced technology in the energy industry, including coal-fired and gas power generation, but it also has lots of experience and great capability in manufacturing and operations. If our capability is used here in Africa, it would have good opportunity to develop," says Liu.
The competitiveness of China's power generation industry is shown by AVIC International's participation in an engineering, procurement and construction project in Turkey, building two 600,000 kilowatt power units, he says. The two units have been operating and have yielded good profits for the owner.
The company is now preparing to invest in the energy industry in Turkey instead of being involved only in an EPC project. With approval from Turkey's government, the company plans to work with China Power Investment Corp and a Turkish partner to build two 600,000 kW power units. The total amount of investment may reach $1.4 billion, he says.
The company is now hoping to replicate this experience in Africa. "We tried several times in Kenya to bid for coal-fired and gas power generation projects two years ago," he says.
"The bids are still in process. We have done market research into hydropower and coal-fired power in Zambia, gas power in Gabon and Egypt, and oil-fired power and gas power in Ghana."
While many banks are willing to offer financial support for those projects because of good project design and economic feasibility, the company also can obtain strong support from China Exim Bank's concessional loan and preferential export buyer's credit, he says.
Liu says the development of new energy in Africa is still restricted by cost, though his company has been preparing for that as well by doing market research.
"Actually, we have done some new energy projects in Europe and the US. It's government subsidies that make those new energy projects there practicable. In Africa, however, many governments are still drafting a subsidy policy for new-energy, so we are still observing the market. New energy could be quite prosperous if African governments had clear policies," he says.
While energy can be a problem for many Chinese companies in Africa, a lack of talent can be another hindrance. There is a large population in Africa but very limited talent, making technical and vocational education and training urgent and necessary.
"The population in Africa is increasing greatly, but there is a big problem, that many youths are unemployed and lack skills to make a living," says Liu. "Since (vocational training) is seriously needed this offers a good business opportunity to AVIC International.
"We have training contracts in about six African countries, including Kenya, Ghana, Gabon, Zambia and Uganda. We bring into consideration both different countries' developmental orientation and the skilled labor Chinese companies there need, and design different training programs in different countries."
In Gabon, for example, AVIC International not only has set up machining and electronic training programs, but also training for the country's developed petroleum and timber industries. The company also set up aeronautical maintenance training programs to fuel the country's hope of becoming a regional aviation hub. Civil engineering programs are expected to help relieve Chinese companies' problems with the shortage of talented employees for their infrastructure projects, explains Liu.
In Kenya, the company has launched Africa Technical Challenge, which aims to cultivate a spirit of entrepreneurship and facilitate self-employment among young people. While continuing the technical challenge like last year, this year there also will be a mobile app challenge.
Winners were awarded cash last year, but the three most outstanding participants also received scholarships to study at engineering universities in China, while the top two teams signed a spare parts manufacturing contract worth $100,000.
Liu says the spare parts the top two teams make will be used in the company's equipment in Kenya so as to encourage young people to obtain more skills and find their professional directions.
"We have gained some experience from ATC and would like to promote the experience to more African countries soon," Liu says. "While equipping young people with skills, which can be used in their work and promote their countries' development, our (training) program can also help the young lead a better life and find their own lifestyle. This can sometimes be even more significant than the upgrading of the countries' hardware facilities."
houliqiang@chinadaily.com.cn