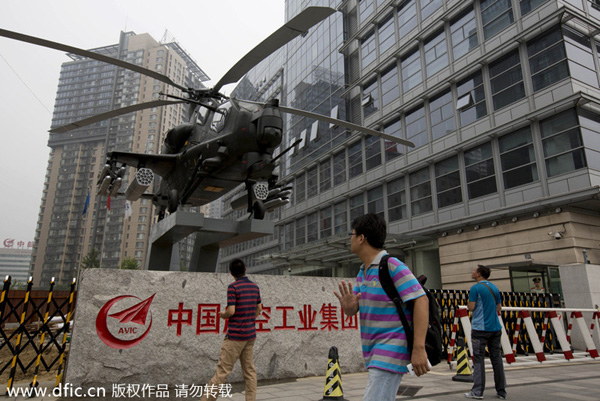 A WZ-10 attack helicopter is displayed in front of the office building of Aviation Industry Corporation of China (AVIC) in Beijing, July 16 2014. [Photo/IC]
WUHAN - China's leading aircraft maker has begun building what it hopes will be the first of many industrial bases dedicated to serving the country's general aviation market as it is set to take off.
The Aviation Industry Corporation of China (AVIC) and the local government on Saturday held a ceremony to launch a complex that will cover 30 square km in Jingmen City of central China's Hubei Province.
With an investment of 20 billion yuan ($3.1 billion) from the AVIC, the base will be dedicated to manufacturing aircraft as well as research and training.
It should be completed within eight years, said AVIC chairman Lin Zuoming.
"The AVIC will build 50 such complexes across China to cover 90 percent of the country's population in order to build a national light aircraft operation network," said Lin.
The United States has about 600 similar aviation communities that integrate entertainment with business functions, said Jon Dauplaise, director of emerging markets at U.S. manufacturer Cirrus Aircraft.
With the opening up of China's general aviation market and the development of advanced equipment manufacturing, there is enormous potential for aviation bases in China, said Dauplaise.
General aviation refers to all civil aviation operations other than scheduled air services.
General aircraft, ranging from helicopters to private jets, are restricted to flying in low-altitude airspace below 1,000 meters in China, but policymakers are mulling loosening that regulation.