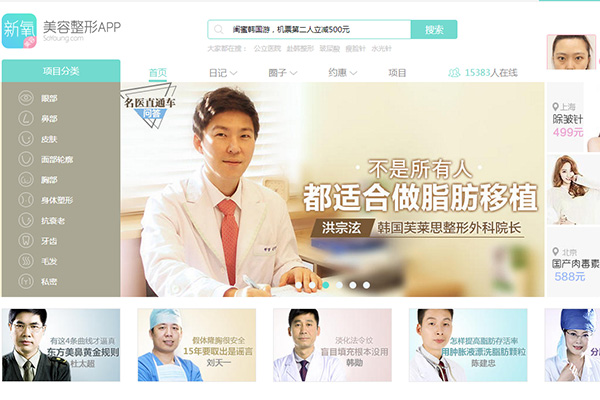 The website of SoYoung, an online platform. [Photo provided to chinadaily.com.cn]
The search for the perfect looks is prompting a huge number of Chinese people to go under the knife, spawning a multi-billion-dollar industry centered on plastic surgery.
Despite the fast growth, companies are now getting ready to extend the offline boom to the online world as the rapid growth of e-commerce has opened new vistas for companies.
What is interesting about the online expansion is that companies are using customer testimonials to attract new users. Customers are no longer reticent about their "nip and tuck" experiences and are ready to share their "ugly and beautiful photos" after a plastic surgery, as can be seen in SoYoung.com, an online cosmetic medicine platform.
Besides sharing customer experiences, SoYoung also helps customers to book plastic surgeries. Founded in 2013, the company provides e-commerce services for nearly 2,000 plastic surgery hospitals and clinics selling services and products.
"Young people have an open mind for plastic surgery, especially the post-90s generation, who account for more than half of the users who have shared their experiences on the site," said Jin Xing, the founder of SoYoung.
"Most of the post-90s women consider plastic surgery as common, and regard it as a high-end service. That is also why they are willing to share their 'beauty diary' with others."
Jin worked as an operations manager at several IT companies, including Tencent Holdings Ltd and Mop.com, before deciding to test his entrepreneurial skills.
According to data provided by SoYoung.com, the website has access to over 600,000 plastic surgery diaries, and attracts more than 100,000 visitors every day. Its mobile application has 5 million active users.
According to industry sources, the total size of the plastic surgery market in China is expected to be about 300 billion yuan ($47 billion) every year, with a growth rate of 30 percent. It is estimated that the market will reach 800 billion yuan in 2018.
Despite the strong growth, China's per capita share of hospitals and clinics that conduct plastic surgeries is just 5 to 10 percent of that in South Korea.
Jin said that though the industry has grown substantially in China, Chinese still have limited access to necessary information about plastic surgery services. Questions like "Which hospital should I go to? Which doctor should I see? What's the price and how about the procedure?" often puts users in a quandary. SoYoung aims to fill this vacuum and provide the right answers.
On the platform, clients can first browse the stories of people who have undergone plastic surgery, and see their photo taken before and after the surgery and their experiences during the recovery process. They can then search for information about hospitals, doctors, operation items and prices under various categories.