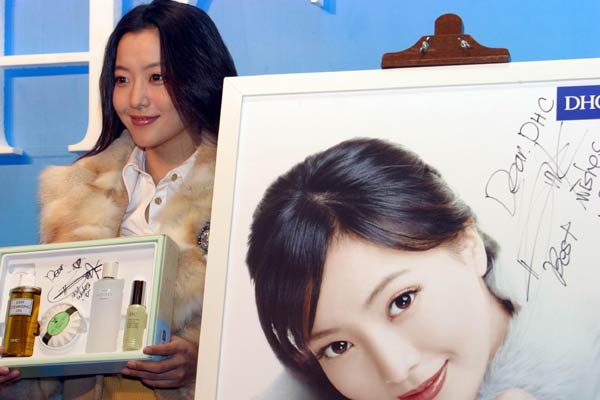 A model promoting cosmetic products at a consumer products exhibition in Beijing in this file photo. China's cosmetic and plastic surgery market is booming with stronger-than-ever demand for quality products and services. [Provided to China Daily]
Founder of cosmetic application targets 10 million users next year
In an age when China's Internet sector is already being dominated by multi-million dollar giants such as e-commerce conglomerate Alibaba Group Holding Ltd, it is becoming increasingly difficult for entrepreneurs to start something from scratch and build it into the next industry heavyweight.
However, anything to do with smartphones looks like offering one of the most potentially lucrative directions as the devices continue to find their ways into the everyday lives of millions of Chinese - a fact not lost on Liu Di.
Liu is the founder of GengMei APP, a mobile application which has cleverly filled a gap in the cosmetic surgery market by offering users a route to finding the best doctors and surgeons to suit their own personal needs.
"You might think that those who have had plastic surgery or gone through the procedure might want to keep their experience a secret," says the 32-year-old Liu.
"But we found that many are very outspoken about it in cyberspace. Talking to strangers about their surgery appears to lower the mental and physical pressures of patients. They need to communicate," said Liu, whose app has gained more than 1 million users since being launched a year ago, and in March landed a multi-million-dollar investment from Sequoia Capital China.
To meet the demands of growing number of users, Liu has built a social platform on which people can share their personal experiences of "improving" themselves; and users can swap stories, and offer tips to each other, such as on which doctor had the best skills for those who are interested in doing similar surgeries. Or simply, they talk.
Liu says the social platform has become a catalyst for converting potential customers into real paying patients, with another sub channel connecting qualified doctors from public and private hospitals with those customers. Potential customers can also have one-to-one conversations with doctors online. They can even book surgeries in offline hospitals from the app through a Groupon-like sub channel.
China's plastic and cosmetic surgery market is booming, with surgeries projected to surge to 5.57 million in 2015 from 1 million in 2005, according to China Market Research Reports and Consulting Services, a market intelligence and investment consulting firm based in Shenzhen.
Despite the massive growth, however, Liu says it is still difficult for doctors to locate potential clients and challenging for patients to find reliable doctors for what can be image-changing surgeries.
He claimed the app's user-generated content is also helping solve what has been one of the biggest stumbling blocks to having cosmetic surgery for many people, trust, as thousands of users share both their real-life experiences and rate the skills of the doctors involved.
Guo Yingzhe, an analyst with Matrix Partners, GengMei APP's angel investor, says the online community, and others similar, are helping to make the plastic surgery industry more transparent, by forcing the surgeons to cherish their own reputation and credibility.
So far the largest online community focused on the plastic surgery market, GengMei has attracted more than 2,000 licensed doctors across China to register with the app.
Most GengMei users are females between 20 and 35 years of age, college students or white-collar women in first or second-tier cities in China, meaning his target audience is probably around 20 million to 30 million users.
"The average value of a deal sealed on our app is about 10,000 yuan ($1,600)," Liu says.
His app has already helped medical organizations secure around 200 million yuan in bookings over the past six months.
"We are already working to expand our service portfolio from plastic surgery, to orthodontic care, weight loss, and nutritional help-areas that might not seem vital to everyone's health but might be life-changing for some," he says, adding that his target is to have 10 million users in 2015, including more than 100,000 doctors.
One white-collar worker in Beijing, who is considering a double-eyelid surgery, said that GengMei has been central to helping her decide the best place to have her work done.
"Despite the surgery being quite a common procedure these days, I would rather be safe than sorry," said the 27-year-old, who preferred not to be named.
She said, however, that many of those who use the site are happy to post their "before and after" pictures-another resource which has proved vital in her final decision making.