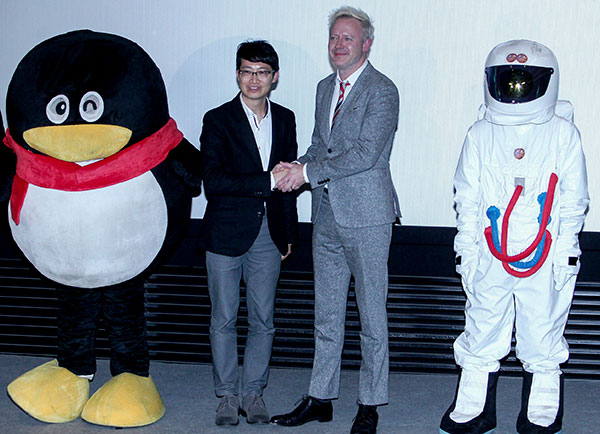 Tomas Jegeus (right), president of international productions at 20th Century Fox, shakes hands with Peng Jiaxin, vice-president of Tencent Holdings Ltd, at a news conference in Beijing on Dec 3. [Jiang Dong/China Daily]
Technology giant Tencent Holdings Ltd and United States-based film studio 20th Century Fox Film Corp have decided to join hands to explore new ways of film marketing in China.
The deal, inked on Thursday, is expected to transform Tencent's instant messaging site QQ into a better platform for film promotions. Under the agreement, the two sides will explore new avenues in copyright cooperation and embedded marketing.
20th Century Fox, for instance, will grant copyrights of some of its films to QQ, whose users would be able to download or buy movie-themed virtual items, such as emoticons and animations.
"QQ is popular among young Chinese netizens. We believe the tie-up will help expand our presence and influence in China," said Tomas Jegeus, president of international productions at 20th Century Fox.
QQ is one of the largest social networking sites in China. It boasts 860 million monthly active users, two-thirds of whom are aged between 12 to 29.
"These young netizens constitute the country's largest movie consumption group. They love to discuss and share their movie reviews online, which forms an effective platform for word-of-mouth promotion," said Peng Jiaxin, vice-president of Tencent.
Last week, Tencent launched a package of animated emoticons to coincide with the release of 20th Century Fox's movie The Martian in China. Within three days, the film-featured package was downloaded 1.5 million times.
The deal marks Tencent's latest attempt to capitalize on Chinese consumers' growing appetite for movies.
In September, the Internet giant established two film units, with one focusing on adapting popular online books into movies and the other dedicated to video-streaming business.
As of Thursday, box-office receipts in China hit a record high of 40 billion yuan ($6.2 billion), compared with 29.6 billion yuan for the whole of last year. China is now the world's second-largest cinema market, after the United States.
Huang Guofeng, an analyst at Beijing-based Internet consultancy Analysys International, said the cooperation is a well-calculated decision for both parties.
"20th Century Fox isn't looking for a quick gain from the selling of virtual items. Instead, it wants to leverage QQ's sizable user base to reach China's young netizens. While for Tencent, the former's abundant quality movie content can increase its users' loyalty as well as boost QQ's reputation and capabilities for promoting films."
Huang expects more similar deals soon. "In the future, I think QQ will work with more movie studios, not only the Hollywood firms but also domestic players, to roll out similar plans."