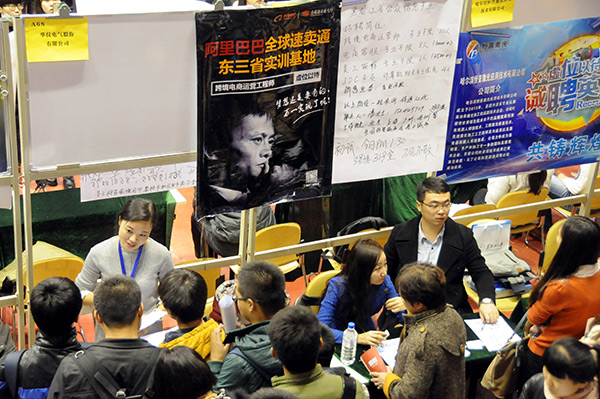 Alibaba Group Holding Ltd's booth received much attention and lots of applications at a recruitment fair at the Heilongjiang University stadium in November. [Liu Yang/China Daily]
A Manpower employment outlook survey revealed that hiring sentiment among employers in China was the weakest in the fourth quarter since September 2009.
"(But) the Internet sector still has the strongest hiring intention," the survey reported.
For Justin Ren, an associate professor of operations and technology management at Boston University's School of Management, this trend could be just part of the cycle businesses go through.
Leading Chinese Internet companies are also looking to go global and that will require new highly talented staff as opposed to a large number of low-end engineers.
"It is just a matter of time when smart companies like JD.com (Inc) and Alibaba start recruiting more experienced talent on a global scale," Ren said.
Alibaba has already started the process by appointing former Goldman Sachs Group Inc vice-chair Michael Evans as president of the group in August. He will spearhead the company's international growth strategy.
"To become a globalized company, you need to build a talented team with an international background and a worldwide mindset," Wang Weiyi, senior director, human resources, Alibaba, said.
"It will be more and more difficult for fresh graduates to get entry-level job offers because we need more people with work experience," Wang said.
But David Yu, head of sales and operations at LinkedIn China, which is part of the largest professional network in the world, is still bullish about the Internet jobs market.
LinkedIn is often used by companies to build brand awareness and attract talented people with international backgrounds.
Yu mentioned that 61 percent of Chinese companies that use LinkedIn planned to hire more people next year with demand high among online firms.
"Big companies never stop hiring mid-to-senior level positions, especially with the uncertainty about the economy," Yu said.
"They either need high-end talent to lead their business out of difficulty or carry out new initiatives to expand into new sectors."
Cheetah Mobile Inc, the second-largest mobile application publisher in the world, has been going on a recruitment drive, and has doubled the number of vice-presidents since April. In October, the firm's Beijing-based team added 30 to 40 foreign employees.
"We expect to hire a lot more foreign talent for our overseas offices in the following year," Jasmine Lin, vice-president of talent and human resources, said.
But it is not easy to find the right people with the right skill sets. Cheetah Mobile often needs to build a new team in a new country within weeks.
"It is very difficult to do that when you hire across borders, and you know nothing about the hiring policy and rules of head hunting in a strange country," she said.