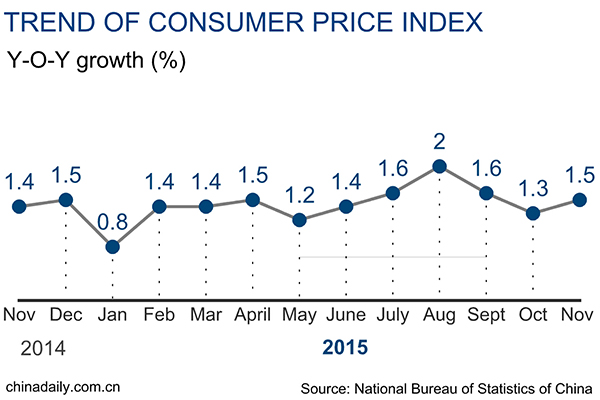 BEIJING - China's consumer price index, a main gauge of inflation, grew 1.5 percent year on year in November, up from a rise of 1.3 percent in October, official data showed Wednesday.
The reading was slightly higher than a 1.4 percent increase for the first 11 months, the National Bureau of Statistics (NBS) said in a statement.
The NBS attributed the rise mainly to rising food prices, as vegetable prices surged 9.4 percent year on year last month, while prices for meat and poultry products rose 6.2 percent.
On a monthly basis, consumer prices stayed flat.
Last month, the producer price index, which measures wholesale inflation, plunged 5.9 percent year on year last month, marking the 45th straight month of decline and showing continued weak market demand.
Related story:
China to boost consumer services to shore up growth by Xinhua
China will strengthen support for consumer services to upgrade the consumption structure and bolster economic growth, according to a guideline issued by the State Council.
Several key sectors, including health care, senior citizen care, tourism, sports, hotels and catering, as well as education and training services will be prioritized, said the guideline.
The guideline is China's first such policy document to specifically target consumer services, improving infrastructure for public services and building a better consumption environment for both domestic and international customers.
Consumer services will be encouraged to expand to rural areas, information infrastructure construction in rural areas will be accelerated, and private and overseas capital is welcome to invest in the elder care industry.
More land and price support will be provided, including favorable land policies for senior citizen care, health care and household services, and lowered transaction card fees in services such as catering.
The government will work to improve the business and consumption environment through strengthened supervision, better intellectual property rights protection and crackdowns on fake goods.
Given the continued slowdown, China is counting on domestic consumption to replace old economic engines and prop up growth. The economy expanded 6.9 percent year on year in the first three quarters of 2015, the lowest reading since the second quarter of 2009.