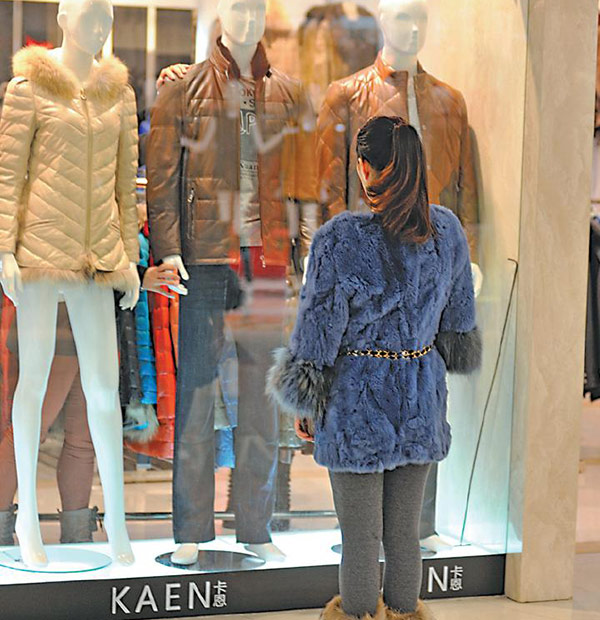 A woman in a fur coat checks new arrivals at a store in Haining, Zhejiang province. China's fur exports dropped 15.7 percent in the first nine months to $2.47 billion.[FENG HAIJUN/FOR CHINA DAILY]
Fur production, export and consumption are languishing this year, with growth rates dropping significantly from last year, according to the latest industry figures.
Huang Yanjie, director of the fur committee of the China Leather Organization, said the sector has grown at its slowest pace in the last three years, despite China being the world's largest fur exporter, producer and buyer.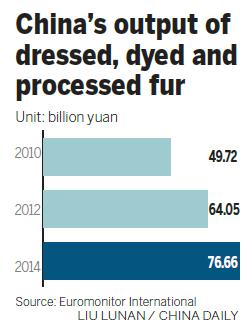 Last year, revenue of 547 fur manufacturing enterprises, that each has revenue of more than 20 million yuan ($3.13 million), rose 11.39 percent to 86.48 billion yuan from a year ago, with growth rate down 5.9 percentage points, said Huang.
During the first nine months of this year, the revenue of these fur manufacturing companies grew by just 5 percent to 65.94 billion yuan compared with the same period in 2014.
Huang said raw material costs have been fluctuating sharply and many firms suffered as they purchased pelts at higher prices during the first six months of the year. Finished product prices, however, fell during the same period.
The cold spell this winter "is good news for the industry", said Huang.
"But that is not enough for the industry to come out of the woods as most of the firms are reeling from poor sales and lower demand due to a slowing economy."
Exports this year have also been in the doldrums. Fur and fur product exports (excluding raw materials) from China in the first nine months dropped 15.7 percent to $2.47 billion.
Zhong Ding Tai Feng Trade Co Ltd, a manufacturer and exporter of women's coats based in Beijing, has reduced the amount of fur it uses in the items it exports so as to make them more affordable for markets in Russia and other Eastern European countries, according to Tu Xiusheng, its general manager.
Spark Fang, communications manager at Saga Furs Oyj China, a leading fur company, said China has overtaken Russia as the world's largest fur market. That, however, is in sharp contrast to the situation in the domestic market, where consumption has stagnated after several years of double-digit growth.
Fang said the slowdown has forced many companies in the sector to consider consolidation moves to stay afloat. Some are even considering complete reorganization, he said.
"Due to the slowing economy, people are not that keen on spending more on luxury products such as fur coats," he said.
That said, Fang remains confident on the long-term prospects. Raw material supplies are expected to reach reasonable levels by 2017, even as demand is picking up in affluent cities and areas of the country. He cites the example of Chongqing and said that the city has a climate that is suitable for wearing light furs in winter.
Chinese fur producers have also been keeping abreast with the changing customer preferences. They are fast catching up global fashion trends and even developing personalized designs.