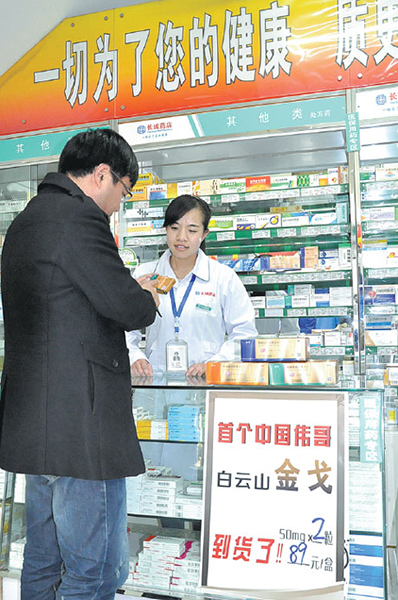 A man buys Jin'ge at a drugstore in Guangzhou, capital of Guangdong province, where the Chinese version of Viagra is on a promotional sale. [Photo provided to China Daily]
China-made drugs to treat erectile dysfunction are eating into the share of Viagra and Cialis
Only 38 percent of Chinese people are satisfied with their sex lives, a joint survey by the China Sexology Association, the Chinese Medical Association and Guangzhou Baiyunshan Pharmaceutical Holdings Co Ltd showed earlier this year.
And 46 percent of Chinese men older than 40, or about 127 million, suffer from erectile dysfunction, according to Chen Keji, a member of the Chinese Academy of Sciences.
But only 4 percent of them seek medical help - many do not even know Chinese drug makers offer effective, affordable pills.
All that will likely change as Chinese pharmaceutical companies spread awareness about their ED drugs that are cheaper than those made by multinationals.
Jin'ge, Chinese for "golden spear", is one such China-made ED pill, whose sales are expected to exceed 1 billion yuan ($156 million) by 2017, almost level with Pfizer Inc's Viagra annual sales in the Chinese market now.
Launched in October 2014 by Guangzhou Baiyunshan, the pink pill, the Chinese version of the blue Viagra, is now sold in more than 30,000 drugstores nationwide, according to company officials.
"We have also developed more than 500 wholesale agents and more than 1,000 drug chains," said Wang Wenchu, deputy general manager of Guangzhou Baiyunshan.
A 50 milligram pill of Jin'ge, equal in dose to Viagra, costs 48 yuan, 60 percent lower than its overseas counterparts. Jin'ge comes in packs of one, two, three, four and 10 tablets. A pack of 10 pills retails for 345 yuan.
"The lower price has helped quickly expand sales channels," said Wang. The Shanghai-listed company has reported big sales of Jin'ge, topping 700 million yuan since its launch.
"Jin'ge will change the status quo of the global ED medicine market because it has advantages of lower pricing and the same curative effect," said Wang.
Before Jin'ge hit the market, Viagra had more than 50 percent of China's ED medicine market and Eli Lilly and Co's Cialis 34.6 percent, according to thepaper.cn, a Chinese news portal based in Shanghai.
It was in the 1990s that Guangzhou Baiyunshan started research into, and development of, ED medicine using sildenafil as the main ingredient, which is used in Viagra as well. Its R&D team was led by Nobel laureate Ferid Murad, known as the "father of Viagra".
Prior to the expiration of Pfizer's patent of Viagra in China in May 2014, nearly 20 Chinese drug companies had applied for a permit to produce generic equivalents of Viagra, according to Wang.
In September last year, Guangzhou Baiyunshan received permission from the State Food and Drug Administration to produce and sell a crystalline compound using sildenafil citrate. The rest is history, the unfolding present of a growing market and a future that promises possibilities of further expansion.
"We will launch Jin'ge in international markets in the near future. We believe it'll be very competitive both on the price and effectiveness fronts," Wang said. The company has begun applying for sales permits in several countries and regions.
"The global demand for ED medicine is very huge. People would first look for treatment with medicines containing sildenafil citrate," Wang said.
Agreed Deng Chunhua, a researcher at the Chinese Medical Association. "Globally, people suffering erectile dysfunction will first receive treatment using a medicine with sildenafil citrate."
Chen of the Chinese Academy of Sciences said many Chinese men with ED do not seek help due to lack of knowledge or fear of stigma associated with the condition.
Concurred Deng. "ED has become a serious disorder. But most men still are not agreeable to using medicine for treatment. Only 13.75 percent of men surveyed thought that the medicine containing sildenafil citrate is safe."
For long, Chinese men used to rely on additional nutrition or would blindly take Chinese patented supplements. "Such treatment without scientific means will make things worse," said Deng.
Spreading awareness of men's health and ED medicine is key to increasing sales among Chinese men, said Lin Jingyan, who works with a drug retailer in Guangzhou, capital of Guangdong province. "In the past, foreigners were regular buyers of ED medicine at our store."
But hope is rising, slowly, said Lin. Sales of ED medicine, including Jin'ge, have risen at his store of late. "More Chinese men have been looking for ED medicine, which contributes a growing percentage of sales revenue of our store."
Deng said the Chinese Medical Association will be working with Guangzhou Baiyunshan to launch a series of activities to promote men's health in the near future.
Early this year, Guangzhou Baiyunshan organized similar promotional events across 31 provinces, municipalities and autonomous regions.
More medical specialists dealing with men's sexual problems are needed, said Deng. Guangzhou Baiyunshan would invest at least 1 million yuan each year to develop medical professionals to promote men's health.
"Improved knowledge about men's health would help expand the ED medicine market and promote wider use of cheaper domestic generics," said Deng.