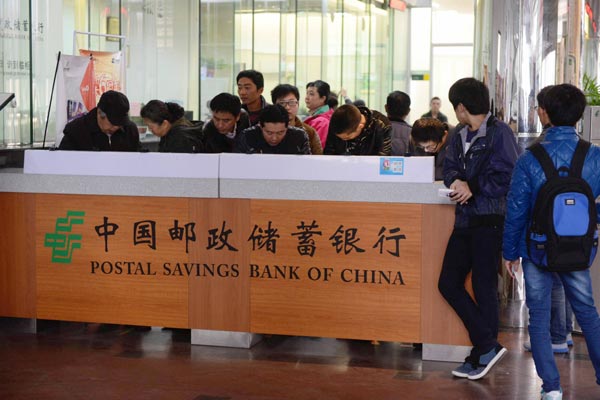 Customers at a Postal Savings Bank of China Co branch in Qingdao, Shandong province. [Photo/China Daily]
Postal Savings Bank of China announced on Wednesday that the banking regulator has approved its introduction of 10 strategic investors in the aim of improving corporate governance and transforming their business.
The investors include prestigious international financial institutions such as UBS AG, JP Morgan and Temasek Holdings Pte, large State-owned enterprises like China Life and China Telecom, and Chinese Internet giants Tencent Holdings Ltd and Ant Financial, the financial services affiliate of Alibaba Group Holding Ltd.
Previously, China Post Group was the only shareholder of the bank.
The total capital raised from this strategic investment is 45.1 billion yuan ($7 billion), accounting for 16.92 percent of the enlarged capital, with primary shares at a price of 3.89 yuan per share.
Lv Jiajin, president of the bank, said the money will be used to replenish its capital. As some international investors made the investment in US dollars, the capital will also help the bank develop its international business and support the overseas expansion of Chinese companies.
He said, "We'll look for the right opportunity for our bank to get listed both in and outside China."