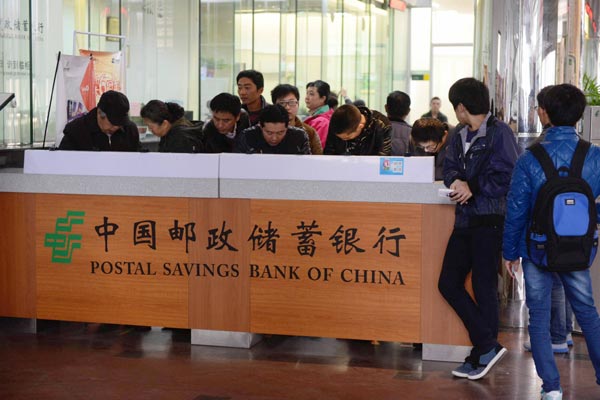 Customers at a Postal Savings Bank of China Co branch in Qingdao, Shandong province. The bank has about 40,000 outlets nationwide and more than 470 million customers. [Photo/China Daily]
State lender seeks to improve corporate governance, raise capital for growth
Postal Savings Bank of China Co aims to raise up to $25 billion with an initial public offering next year, people with knowledge of the matter said.
The bank is expected to introduce strategic investors who will improve its corporate governance by the end of June, raising $6 billion before the IPO and transferring about 15 percent of its equity to them.
It has received approval from the Ministry of Finance, said the person, who declined to be identified as the deliberations are private.
"By floating the bank on the stock market, we look forward to improving its corporate governance structure through the diversification of equity ownership," he said.
The lender, which has the most outlets among Chinese lenders, is 100 percent owned by China Post Group Corp, the State-owned postal service provider. PSBC is bringing in outside investors as the nation aims to diversify the equity ownership of SOEs as part of the mixed-ownership model, thus improving the returns on State capital.
PSBC also wants to beef up its capital to meet the demands of development.
As the bank's loan-to-deposit ratio is just 30 percent, there is still much scope for credit growth, but that requires an injection of capital into the lender. Its senior executives hope to establish a long-term source of capital injections by introducing strategic investors and obtaining a listing on the stock market, said the person.
The bank had more than 5.57 trillion yuan ($891 billion) of assets at the end of 2013. Savings from individuals exceeded 5 trillion yuan on Dec 16, 2014.
With nearly 40,000 outlets nationwide and more than 470 million retail customers, the lender is boosting its capital to meet government mandates on lending to rural areas and small businesses.
The Financial Times reported on Monday that the bank is in talks with potential investors to sell minority stakes before its IPO. Among all the potential investors is Zhejiang Ant Small & Micro Financial Services Group Co, an affiliate of Alibaba Group Holding Ltd.
Ant Financial's public relations team said the company does not comment on market rumors or speculation as a matter of policy.
But this is not the first time that gossip has swirled around a potential link between Ant Financial and PSBC. In early February, Ant Financial was reported to be in negotiations for funding with several strategic investors, among them PSBC, which was said to be taking a 3 percent stake.
Alibaba signed a strategic cooperation agreement with China Post Group, the parent company of PSBC, last June. Under the partnership, Alibaba and China Post will cooperate on logistics, e-commerce, finance and information security. They also agreed on the joint development of new business and markets.