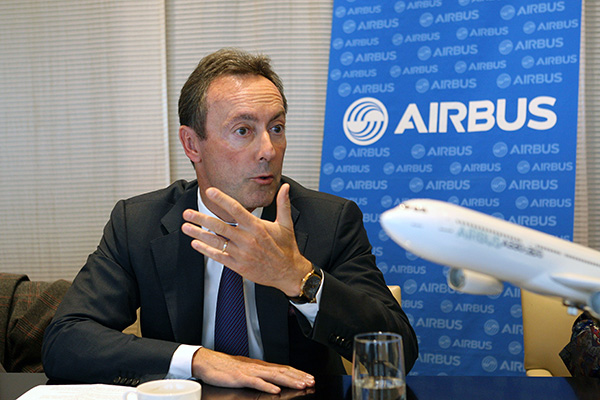 Fabrice Bregier, president and CEO of Europe-based Airbus SAS. [Photo/China Daily]
Airbus reaps rewards of strong partnerships, says its top official
Fabrice Bregier, president and CEO of Europe-based Airbus SAS, the unit of Airbus Group SE that makes civil aircraft, is proud of the company's cultural diversity.
"It is an integral part of the Airbus DNA, but more importantly, a core success factor," Bregier said.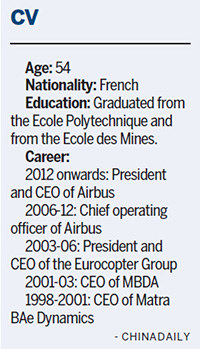 The company's multi-cultural workforce exceeds 55,000 people, from more than 100 countries. In Beijing alone, it has employees from 20 nationalities.
The Toulouse-headquartered company became the first truly global aircraft manufacturer in September by launching a final assembly line in Mobile, Alabama of the United States.
Seven years ago, the company made headlines after it set up its first aircraft final assembly line outside of Europe in Tianjin, a northern port city of China.
Its arch rival, the Boeing Co, has assembly lines only in the US.
It is strategically important to expand the company's industrial footprint in China and the US if Airbus wants to take the top slot in the global aviation market, Bregier said.
The US is the world's largest aviation market and China is the fastest growing one globally. "China will outpace the US within 10 years," he said.
The two factories outside of Europe are also integral to Airbus' plan of ramping up production of single-aisle A320s from 42 per month to 60 a month by 2019.
Bregier knows that it is no mean feat to achieve. But he is confident that it can be done.
"You need to have strong ties with your local partners and be with them from the start. After that, normally it works. We have showed that this can be done in Tianjin," Bregier said.
"It is part of the know-how of Airbus," he added.
Airbus was born in 1970 as a consortium of aerospace companies from four European countries-France, Germany, and later, Spain and the United Kingdom-to challenge the US dominance in the skies.