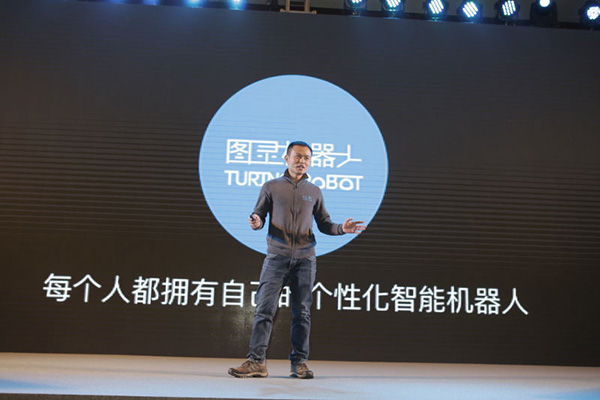 Yu Zhichen, founder and CEO of Turing Robot, speaks at the launching ceremony of Turing OS in Beijing on November 7, 2015. [Photo provided to chinadaily.com.cn]
Yu Zhichen, founder and CEO of Turing Robot, shared with China Daily website his ambitious Chinese dream of placing an artificial intelligent robot into every household, on November 24 at the World Robot Conference 2015 in Beijing.
Turing Robot was established and launched its first generation product on November 6, 2014.
1. The idea of "mass entrepreneurship and innovation" was first raised by Chinese Premier Li Keqiang during the Summer Davos in September 2014. Turing Robot was just born shortly after the idea was created and completely fit in both entrepreneurship and innovation. What's your idea of "mass entrepreneurship and innovation"?
A: From a macro point of view, the idea raised by the government would create a better environment to support innovation and the development of entrepreneurs. It has positive significance, especially in the capital sector. With government support and guidance, the entire industry will be greatly promoted.
From the micro point of view, companies still have to recognize their own position and values. The social atmosphere will stimulate innovation and enthusiasm; however, the probability of success and failure is half to half.
2. Many tech giants, such as Baidu, Microsoft and Google, are all making huge investments in the artificial intelligence field, both money and human resources. Compared with such tech behemoths, what do you think are Turing Robot's advantages?
A: I think the advantages are relative. For big companies, their overall investment is undoubtedly huge, larger than any other start-up companies. But in some certain areas, where the startups input all their money and human resources, the big companies are weaker.
Turing Robot invested more financial and human resources in the household artificial intelligent robot field than any other big companies, including Baidu, Microsoft and IBM.
Besides making too dispersed investments, the big companies are more focused on research, other than practical application. We need not only technology, but also good product managers. Both research and products are equally important to the development of artificial intelligence.
3. Chinese is one of the world's most complex languages. On the launching ceremony of Turing OS earlier this month, you announced that our Chinese semantic understanding accuracy rate was 94.7 percent and the man-machine dialogue accuracy rate was 88.2. These are amazing figures. How did you calculate these figures?
A: We made over 1 million tests every week to get these figures and have full intellectual property rights of these technologies.
Although we are a small company, we have a dedicated team for intellectual property rights. We invest about 200,000 to 300,000 yuan every month in intellectual property R&D and applications and own 110 patents now.