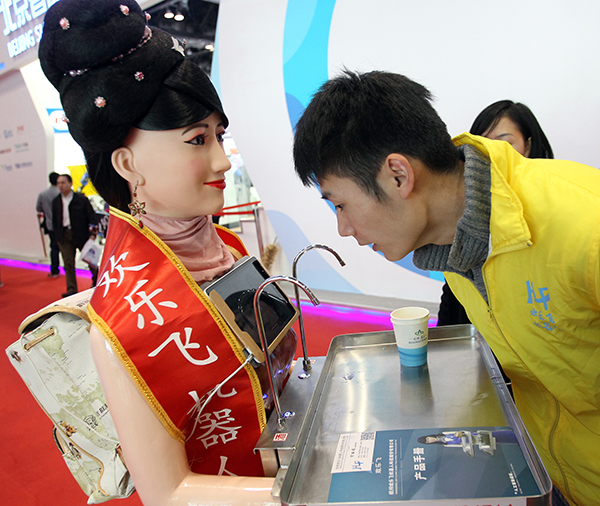 A man looks at a robot which can deliver food at the World Robot Conference 2015 in Beijing, Nov 23, 2015. [Photo/China Daily]
The China Association for Science and Technology published four standards for industrial robots-the first for China's robotics industry-at the World Robot Conference 2015 in Beijing.
The three-day conference, which opened on Monday, was jointly hosted by the association, the Beijing municipal government and the Ministry of Industry and Information Technology to boost the development of the robotics industry in China.
"Technological innovation is the driving force in the development of the robotics industry, and standards play a crucial role in promoting new technologies," said Song Jun, head of the academic department of the association. "The standards themselves are an important achievement brought about by innovation."
"After publication, we will seek recognition of the standards to make them a common language for international technological exchanges," he said.
The newly published standards apply to three different kinds of robots: stacking robots, wheeled robots and electronic belt scales.
At the publication ceremony on Tuesday, representatives from more than 20 leading robotics research institutes and industrial robot producers signed commitments that they will adopt the standards.
"The Chinese authorities related to industrial automation had been carrying out successive reforms in recent years, and the publication of the group standard is one of the most promising developments," said Yang Shuping, a researcher at the Beijing Research Institute of Automation for the Machinery Industry.
Group standards are a set of voluntary technical standards created by nongovernmental academic organizations that are thoroughly tested before being promulgated on a national scale.
In July, the State Council, China's Cabinet, issued an implementation plan to transfer more government functions, including the establishment of some industry standards, to the China Association for Science, a public organization of 204 technological associations covering more than 70 percent of China's tech community.
In the months that followed, the association compiled standards for a number of cutting-edge technologies including industrial robots, electric cars and 3D printing.
"Group standards are a good supplement to national standards. Since the development cycle of group standards is usually fast, it responds quickly to market changes and can lay the groundwork for amendments to national standards," Yang said.
In September, the Standardization Administration of China authorized the establishment of a special team for standardization within the robotics industry. The team-composed of government officials and industrial experts from 56 different government authorities, research institutes and companies-will develop and propose the international standards.