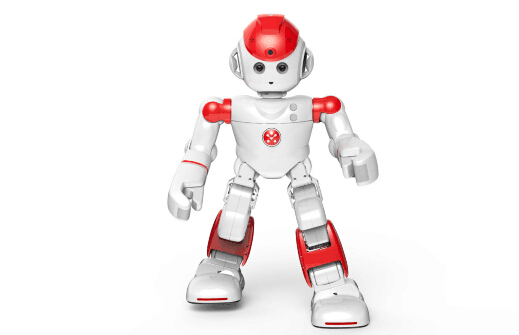 Photo shows the Alpha 2, a half-meter-high humanoid robot. [Photo/people.com.cn]
From a popular star in the industrial world, the robot is all set to become part and parcel of everyday life, like the smartphone has.
Alpha 2, a half-meter-high humanoid robot built by the Shenzhen-based UBTECH Robotics Corp and displayed at the 17th China High-Tech Fair in Shenzhen, epitomizes the changes that are about to take place.
China's top technology show attracted many robot manufacturers. But Alpha 2 stood out for its special family-oriented services.
The "service robot" segment has seen remarkable growth in recent years. ABI Research estimates that the global market size of the segment will reach $75 billion in 2020.
Bi Yalei, professor at the Shenzhen Institutes of Advanced Technology of the Chinese Academy of Sciences and secretary-general of the Shenzhen Robotics Association, believes the market potential of service robots is huge.
"The International Federation of Robotics estimates that the size of robotics industry will surpass that of the automobile industry in 2020," Bi said. "Household service robotics, rather than industrial robotics, can help achieve the goal."
So, many Chinese mainland companies have developed service robots. For instance, Roby Mini, built by a Shanghai startup, assists the elderly in their day-to-day chores. Beijing-based Ainemo has developed a robot that provides company to families.
James Zhou, chairman and founder of UBTECH Robotics, believes Alpha 2's humanlike appearance is significant, given its family-oriented services.
Alpha 2 can demonstrate yoga movements and dance. It can also pass you tools using its "hand". It also boasts features like intelligent voice and communication capability.
Using its Android operating system, Alpha 2 can install different apps. It can tell stories, book tickets, switch off lights or activate the printer, as if it were a butler of a smart home.
So far, UBTECH's sales pulled in over 60 million yuan, 70 percent of it from overseas markets, including Japan, South Korea, the United States, Southeast Asia and West Asia, Zhou said.
And at $499, Alpha 2 costs less than similar robots made in Japan and Europe as Zhou and his team have developed a core component called the Servo at one-10th the cost in Japan, thanks to crowdfunding on the Indiegogo platform for the project.
For perspective, Nao, a robot comparable to Alpha 2 and developed by France-based Aldebaran Robotics, costs about 150,000 yuan ($23,500).
Crowdfunding is now the preferred choice for financing of firms keen to gain market share in the service robot segment. For instance, UBTECH Robotics wanted to raise $100,000 through crowdfunding, but received $500,000 in just five days.
Similarly, Ainemo put up its robot project on crowdfunding platform JD Finance on the Chinese mainland. It achieved its funding target in just 50 seconds. The total fund it raised--about 680,000 yuan--set a record on the platform.