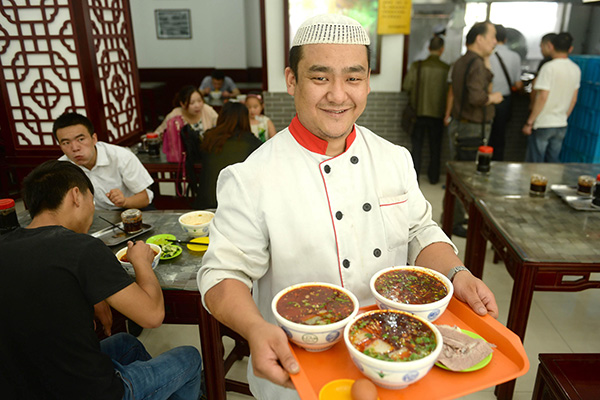 A waiter serves noodles for customers at a noodle restaurant in Lanzhou, Gansu province. [Photo/Xinhua]
The other day, my boss suggested that I look into the mushrooming business of Lanzhou-style hand-pulled noodles, after he became a regular customer at a new franchise, that opened near our office.
He is well-known for bringing lunch from home and shuns nearby restaurants because they are usually crowded at noon and do not really cater to working professionals who look for a quick, hot and simple Chinese meal.
Actually I have always been a fan of noodles and know restaurants that serve the food like the back of my hand.
I like chewy noodles that come in a flavorful, clear broth, with shaved beef, thin Chinese radish slices, and lots of cilantro and scallion. You may also add deep red chili oil. A bowl usually costs 15 yuan ($2.35), arguably the cheapest sit-down lunch in downtown Beijing.
Within a 500-meter radius of our office, there are three hand-pulled noodle restaurants, of which two have claimed Lanzhou pedigree. Lanzhou is the capital of Northwest China's Gansu province, famous for its signature beef noodles.
The outlet I used to visit is a little farther south from the one next to our office. Its 500 square meters make it more spacious, and it has a rather pompous name-Dongfang Gong or Oriental Palace. A standard size bowl of noodles costs 15 yuan. You pay 18 yuan for a larger bowl.
More than 20,000 eateries in some 25 provinces across China serve Lanzhou-style hand-pulled beef noodles. They employ 300,000 workers. Besides Gansu, Qinghai province is a big source of such noodle eatery operators: It accounts for half of the market share.
An unwritten rule among restaurants has been that there should not be a second one within 500 meters of the first, to avoid unhealthy competition. However, the entry of Dongfang Gong has broken it.
As competition intensifies among such restaurants, I wonder what it might do to Lanzhou noodles in future.
Will the currently popular lunch dish go the Malan hand-pulled beef noodles way? The latter thrived under China National Bluestar (Group) Co Ltd, but the firm now has only about 40 stores in Beijing, down from its peak of 128 stores a decade ago. According to a China Economic Weekly report, high rents are among the reasons behind the decline.
Besides an increasingly crowded market, restaurants that specialize in Lanzhou noodles face other challenges like the need to standardize their products and services and to protect their respective brands.
Lack of industry standards, absence of occupational training, ordinary hygiene and intense competition mean that Lanzhou noodles restaurants are still far from becoming well-recognized global fast food chains such as McDonald's and KFC. To be sure, the food has made it to some countries like Singapore, Malaysia, Japan, the United Arab Emirates and France.
Backed by the Lanzhou government, Dongfang Gong is attempting to set up a business model encompassing standardized Lanzhou noodle-making and franchise management.
Lanzhou noodles restaurants are outgrowing a phase that was marked by shabby kitchens and poor hygiene. While most are reasonably clean now, some regular customers may still find it difficult to watch cooks hand-pull noodles and cook them in the big wok, day after day.
"I try not to look at how my noodles are prepared," my boss said. "I just wait for my token number to be called before I go to pick up my noodles at the delivery counter."
Ironically, to draw foodies, Lanzhou noodles eateries tout their open cooking style as a major selling point.