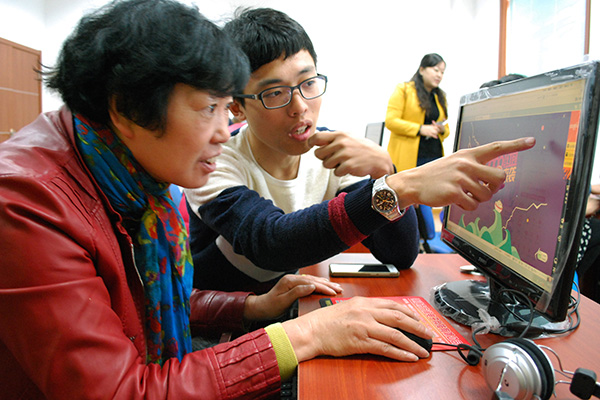 Two customers from Zhenjiang, Jiangsu province, make online purchases on Tuesday, ahead of the shopping festival on Nov 11. [Photo/China Daily]
I had a punishing day's shopping recently. In less than an hour, I bought 12 liter-cartons of milk, the same number of boxes of breakfast cereal, 10 hairy crabs, a dozen pairs of socks, a couple of packs of turtle food, a replacement laptop power cable, and a 4-foot palm tree.
The next day it was all delivered straight to my door, neatly packed (including the palm), and alive and kicking in the case of the crustaceans.
Welcome to China's most efficient and expanding industry: Online shopping.
When I left Edinburgh, the above list might have meant a whole weekend of much blood, sweat and irritation. In Beijing, however, the opposites apply.
I am embarrassed to say, my list was all bought sitting in bed.
This is the ultimate in modern convenience and a gold mine for the delivery and retail sectors. But I can't help thinking it's becoming a killer for society.
This week, retailers across China will no doubt be toasting another bumper Nov 11 shopping festival. It's likely to take a couple days for the dust to settle to find out the total spend. But expectations are it will be another eye-watering tally.
In my view, festivals are about mingling with happy people, listening to music, enjoying each other's company.
They're not about sitting boggled in front of a PC, laptop, tablet or mobile, essentially spending, for the sake of spending. In just five years, Nov 11 has become commercialism on a vulgar scale-much like Christmas has in the West.
In Edinburgh, I lived in a part of town called Stockbridge. There's a 40-year-old cheese shop, a delicatessen, a hardware store, a French patisserie, a stationer, two small supermarkets, a butcher, a fresh-fish shop, even a chocolatier: All within striking distance of each other.
At the weekend, families stroll about with armfuls of real shopping bags, having conversations with real neighbors, actually interacting with their fellow Edinburgers.
I fully appreciate not everyone has this luxury of such quirky shop windows on their doorsteps.
Being able to source thousands of online goods, conveniently from home, is amazing and impressive.
But have we all become just too used to clicking a mouse than using our own two feet to go out for a nice piece of old-fashioned retail therapy?