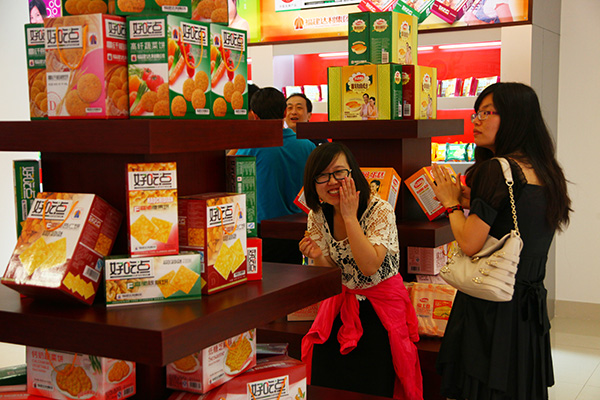 Products of Dali Foods Group Co Ltd on show in Yuxi, Yunnan province. The company has fared better than most of its peers and generated most of its revenues from selling celebrity snacks and beverages. [Photo provided to China Daily]
Dali Foods Group Co Ltd, a Chinese mainland snack and beverage producer, is planning to raise HK$10.4 billion ($1.34 billion) through an initial public offering in Hong Kong on Nov 20.
The company, which sells "Daliyuan" cakes and "Copico" brand potato chips, is issuing 1.69 billion shares at HK$5 to HK$6.15 each. Following the IPO, its market value is expected to reach HK$84.2 billion.
Xu Shihui, founder and chairman of Dali Group, currently owns 85 percent of the shares in the company. The IPO is expected to boost his personal wealth to about HK$71.6 billion.
The IPO proceeds will double the amount garnered by mainland investment bank China International Capital Corp Ltd from its float in HK this week. Though it is not the best time for companies to tap the mainland capital market, given the current stock market fluctuations, an IPO in Hong Kong gives firms more steady growth options.
"Traditional food labels need to raise funds for branding and extending their sales channels. They may seek approaches to collaborate with e-commerce websites, to expand retail footprint and reach out to more consumers," said Wang Lin, senior analyst at domestic research company Analysys International.
"Chinese consumers have not been enthusiastic about food companies due to recent food safety scandals. Companies are looking to gain favor with them by producing high-quality products that are cost-effective," he said.
Dali, founded in Fujian province in 1989, has fared better than most of its peers and generated most of its revenues from selling celebrity snacks and beverages. The company has seen a steady growth in sales, with revenues reaching 14.9 billion yuan ($2.34 billion) last year, up 16 percent from a year ago. Its profits rose 74 percent to 2.08 billion, during the same period, according to a company statement.
The main driver of sales was its smart marketing strategies, like hiring celebrities for television advertisements. Mainland film stars such as Chen Daoming, Xu Qing, and Taiwan singer-songwriter Jay Chou have endorsed the company's brands.
Xu, the company's chairman, was ranked 262 in this year's Hurun Rich List. After the IPO, Xu is likely to move into the top 20.
Meanwhile, the company has also received the backing of three cornerstone investors for its IPO. Cornerstone investors are those who agree to hold on to their shares for six months in return for early, guaranteed allocation.
Singapore-based investment management company Arisaig Partners will buy $305 million worth of stocks, while JIC Dessert Laboratory Ltd, a company affiliated to Central Huijin Investment Ltd, plans to buy shares worth $150 million. Longbow Securities Ltd has committed to invest $75 million.