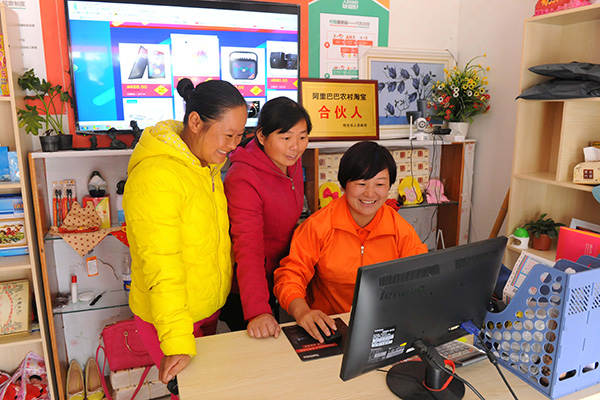 Villagers shop online in Daji village, Anhui province, Nov 4, 2015. [Photo/China Daily] 
An Fennan will play a key role in Alibaba's rural e-commerce strategy for today's spending spree.
She has spent the past month preparing for Nov 11 after advertising was rolled out and pre-sales products were showcased for potential shoppers.
Based in the Dong'an village of Tongxiang, Zhejiang province, An's e-commerce service station will help villagers find products and place orders. Within 24 hours, the packages will be delivered to the station at Tongxiang to be picked up.
"Residents in rural areas want to shop online," Sun Lijun, vice-president of Alibaba Group Holding Ltd, who is in charge of the rural plan, said.
"Last year, the total market value of online shopping in rural areas reached 180 billion yuan ($28.6 billion)."
This year, more than 6,400 rural service stations, including An's, will participate in the biggest shopping festival in China for the first time, along with hundreds of thousands of villagers.
A specially designed website, cun.taobao.com, a branch of Alibaba's online shopping platform Taobao, has been launched for the big day.
"The participation of rural shoppers in the event will help establish an online environment in these areas," Sun said.
By 2016, the total market value of online shopping in rural regions is expected to exceed 460 billion yuan.
"During last year's Dec 12 (a smaller version of Nov 11's festival) event, residents of one village purchased 2 metric tons of soap, and their enthusiasm this year is rising," Sun said.
On Oct 20, rural shoppers paid pre-sales deposit of more than 190,000 yuan. At An's service station, she sold six TV sets, each worth 2,999 yuan.
"Henan, Shandong and Zhejiang provinces are likely to spend the most during the Nov 11 shopping festival," Sun said.
To assist rural shoppers, the cun.taobao.com website is recommending 34 of its most popular products. The hottest items include electronic appliances, clothes and toys.
"Samples of some of the products will be placed in service stations, so that rural shoppers can see what they are going to get," Sun said.
In An's station, she picked cooking oil and liquid detergent as big sellers. "Farmers prefer products that are really useful in daily life," she said.
Warehouses across the country have pre-stocked hot items, so that villagers will receive their packages as soon as possible.
"We also developed a smartphone app that can improve the shopping experience," Sun said.
Alibaba opened its first village Taobao service station in Tonglu, Zhejiang province, last year. By the end of last month, it had stations in 6,400 villages in 27 provinces.
Wu Minzhi, senior vice-president of the company, confirmed that it will spend 10 billion yuan in three years to establish a rural e-commerce system in China that links 1,000 counties and 100,000 villages.
"China has more than 700 million rural population," she said. "The service stations will help them gain easier access to the urban world.