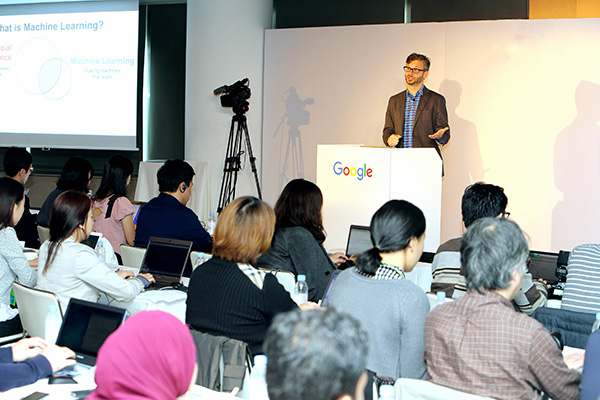 Creg Corrado, senior researcher at Google, delivers a keynote speech during an annual Asia-Pacific press event held by the company on Nov 11, 2015 in Tokyo. [Photo provided to chinadaily.com.cn]
US tech giant Google held its annual Asia-Pacific press event on Tuesday in Tokyo to present the company's latest improvements to machine learning technology.
The theoretical goal with machine learning is to build a technology that works like the human brain, and engineers have been working for years to develop "deep neural networks" designed to mimic people's minds.
"Trying to manually program a computer to be clever is far more difficult than programing the computer to learn from experiences," said Greg Corrado, Google's senior research scientist, during the event named "The Magic in the Machine".
Corrado joined the Deep Learning research team backed by Google in 2011, and currently there are more than 40 world-class engineers and research scientists, including Geoff Hinton, one of the field's founding fathers.
According to Corrado, the alumni of the team are now powering research at Facebook, Baidu, Clarifai and Scaled Inference.
One day before the event, an open source platform named TensorFlow was unveiled to the public by the company.
TensorFlow was originally a project developed by researchers and engineers working on the Google Brain Team within Google's Machine Intelligence research organization for the purpose of conducting machine learning and deep neural networks research.
Google says TensorFlow is used today in a number of its most visible products, including image search in Google Photos, speech recognition systems, Gmail, and Google Search.
By releasing TensorFlow, Google hopes that software will become more advanced and widespread while machine learning and artificial intelligence (AI) is being used to make searching more accurate.
According to Eric Schmidt, executive chairman of Google's parent company -- Alphabet Inc, Google started to practice machine learning on its mobile products back in 2010, and currently most of their core products are utilizing the theory to provide smarter and more efficient services to users.
During the latest earnings call of the company, CEO Sundar Pichai said that "machine learning is a core transformative way by which we are rethinking everything we are doing … we're in early days, but you will see us, in a systematic manner, think about how we can apply machine learning to all these areas."
In recent years, other companies and researchers have also made huge strides in the area of AI, including Facebook, Microsoft, and Twitter, according to wired.com.
Google is hardly the only major tech behemoth building machine learning systems. IBM Watson, Amazon Machine Learning and Azure Machine Learning are among the other notable names competing on the market.